Fixed Input Push-Pull Driver Controller --- SCM1201BTA, SCM1212BTA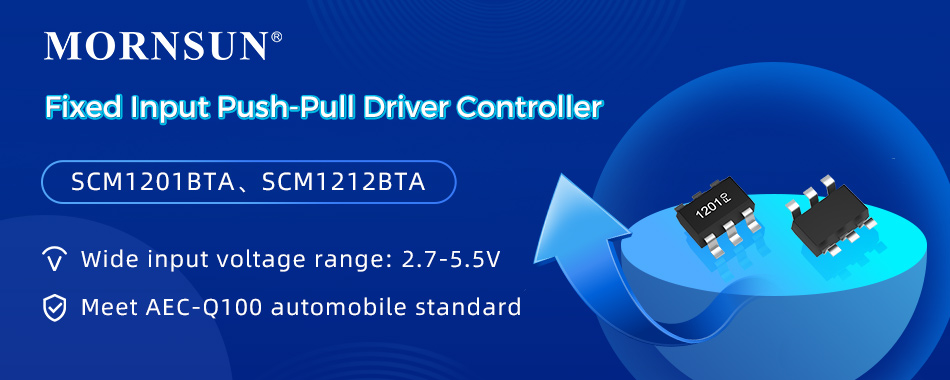 Introduction of Fixed Input Push-Pull Driver Controller
Upgraded from SCM1201ATA and SCM1212ATA, SCM1201BTA and SCM1212BTA are the drivers integrated with MOSFETs for the primary side of a push-pull power, which feature the wide input voltage range of 2.7-5.5V and can be used in the 1-2W applications with 3.3V and 5V inputs.
These series will not be damaged even under the high input voltage up to 9V within 1s. The two internal power MOSFETs are highly symmetrical, which can effectively reduce the degree of magnetic bias in the push-pull topology.
Key technologies of Fixed Input Push-Pull Driver Controller
SCM1201BTA and SCM1212BTA have three key technologies and meet the AEC-Q100 automobile standard to ensure reliability:
1. Soft start function:
Limiting the current of MOSFET to avoid the damage caused by the large current impact when turning on the power, and quantitatively guarantees the capacitive load in
CC load mode.
2. Output over-current and short circuit protection:
On the one hand, types of ic chips can distinguish the judgment and timing of overcurrent and short circuit protection to control the temperature rise of short circuit, and ensure the capacitive load for start-up and short-circuit recovery;
On the other hand, the chip can adjust the protection threshold based on the input voltage and temperature to avoid affecting the protection function due to the change of input voltage and temperature.
3. Over-temperature protection:
When the chip operates beyond the specified temperature, it will enter the dormancy state automatically. It will operate again when the temperature decreases to the set point.
Advantages of Fixed Input Push-Pull Driver Controller
Compared with the first-generation products, the advantages are shown in the following table:
Advantages

SCM1201ATA &

SCM1212ATA

SCM1201BTA &

SCM1212BTA

Remark

Wider

application

range

Input voltage range

4-8V

2.7-5.5V

Compatible with applications under 3.3V and 5V inputs

Startup voltage value

3.7V

2.7V

The max switching current

350mA@VCC=5V

600-800mA@VCC=5V

Compatible with applications with 1-2W input

Higher

reliability

Rated Value of ESD (HBM)

2kV

6kV




Deadtime Function

√

Function better

1. No-load voltage is more stable

2. The current ripple is smaller

AEC-Q100 automobile standard

X

Added new feature




Better

Performance

Quiescent Current

0.8mA

1.2mA




Loss

1.37mA

200μA

Under voltage mode

NMOSFET's On-Resistance Value

0.5Ω

0.2Ω




Operating Frequency Value

273kHz

220kHz




Pin-to-pin

Design

Fully compatible with pins and package sizes of SCM1201A and SCM1212A

Pin1 of SCM1201B is changed from VSS to NC dangling pin, but it can still be connected to the original VSS potential when used
Applications of Fixed Input Push-Pull Driver Controller
Controller ICs can be widely used in isolated power supply, industrial process control, isolated communication power supply, medical device, telecommunication equipment, etc.
Typical circuit of SCM1201BTA (example for 5V input and 5V/0.2A output):

Typical circuit of SCM1212BTA (example for 5V input and 5V/0.2A output):

Features of SCM1201BTA, SCM1212BTA
Wide input voltage range: 2.7-5.5V

Meet AEC-Q100 automobile standard

Low conduction resistance: 200mΩ

Two built-in power MOSFETs with high symmetry, quasi-complementary driver

Limited MOSFET's current when powered

Over-current protection and Short-circuit protection

Over-temperature protection

Under-voltage protection
* For detailed information please refer to the related datasheet, product news is for reference only.