Mornsun Provides Unique Solutions to Solar Power
The power generation industry is rapidly shifting its focus from more traditional sources of power and toward what is collectively known as new energy. New energy, also known as renewable energy, depends on sources other than fossil fuels to generate power, does not drain our world of critical resources, and does not adversely affect the environment. The sources used in connection with new energy include more familiar methods such as wind power, as well as more recent approaches such as solar. The primary focus of commercially available new energy technology right now is photovoltaic power generation, which harnesses the energy of the sun and converts it into usable electricity.
Power Generation Systems for New Energy
A smart grid system can be broadly divided into generators, transmission, substation, distribution, and monitor systems. An automated power grid can monitor and control each grid node, ensuring a two-way flow of information and electricity between all of the nodes in the entire electric transmission process, from generation to energy consumption.
As efficient and renewable as new energy sources may be, they depend heavily on the control that renders them useful to the public. The typical photovoltaic (PV) power generation system shown below is a great example of this: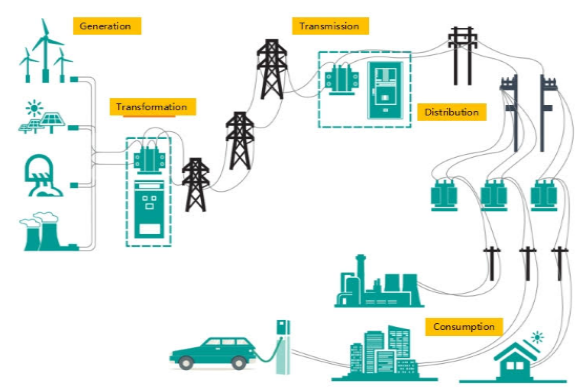 Figure 1. PV Power Generation System
The PV arrays harness energy from the sun, but that energy must be combined, distributed, inverted, and boosted before it arrives at a power grid. New energy systems also require efficient, reliable solutions for energy storage and energy management. These systems and the components that comprise them must have an ultra-wide input voltage range, high power, and high efficiency with a high isolation voltage between the primary and secondary sides.
New energy management systems such as the one described for PV solar energy must be rugged and reliable, able to withstand extreme operating temperatures and provide protection against reverse input voltage, output short circuit, over-current, and over-voltage while supplying an output voltage of 12V/15V/24V. Power engineers are frequently looking at ways to simplify the circuitry and improve the manufacturability of their power generation systems.
Meeting the Challenges of PV Solar Power
Mornsun has a line of products engineered to meet the challenges of the latest in PV solar power generation technology. Included in this product line are components that support a 1500V PV system, which reduces the quantities of strings, inverters, combiners, and DC-side cables, while significantly increasing the power density and power-per-array. With the right components, overall system losses associated with 1500V designs can be significantly reduced.
The PV15/PV40-29Bxx, for example, is a series of 15-40W isolation DC-DC converters with ultra-wide, ultra-high 200-1500V DC input and a 4000VAC high isolation voltage designed for the challenges of the latest renewable energy applications. This converter series is ideal for control circuits and power monitoring in PV power systems.
Mornsun is a power supply supplier, we also have the components for the latest PV combiner box designs that support 1500VDC, such as the PVxx-29B24 and three other models of isolation converters, a K8705-500R3 linear voltage regulator, two isolated converters F0505S-1WR3, a B0503S-2WR2 isolated converter, and a TD501D485H industrial bus for communication.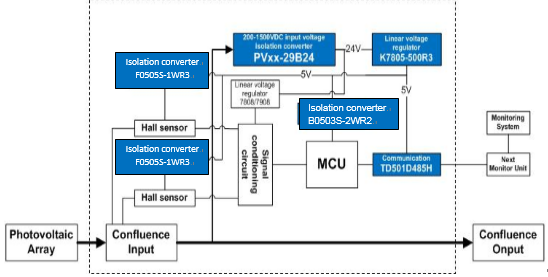 Figure 2. PV Power Combiner Box Design
The distributed inverter system is yet another example of a key module in a PV power generation system. In addition to the PV60-27D1215 input voltage isolation converter on the primary side, there is an auxiliary AC/DC isolated power supply LD20-26B12. This design also includes one linear voltage regulator K7805-1000R3, a B0503XT-2WR2 isolation converter, an F0505S-1WR3 isolation converter, four hybrid integrated IGBT drivers QP12W08S-37, and a TD501D485H industrial bus for communication.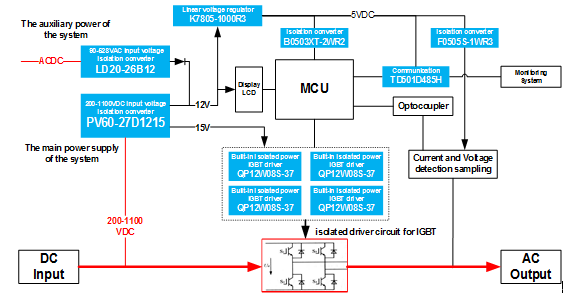 Figure 3. A Distributed Inverter System
Mornsun's product lines for new energy applications — specifically PV applications — and their unique solutions include many industry-leading features. These features include an input range of up to 1500VDC to reduce line costs, start-up circuits that implement their own unique high-voltage start-up patent technologies to support fast startup and multiple protections, and products that are specially designed for use in high altitude applications. Mornsun's product lines for new energy are also UL 1741, CSA-C22.2 No.107.1, EN62109 safety approved.
Mornsun Supplies Reliable New Energy Components
The demand for new energy power systems is on the rise, as is the demand for reliable, rugged components to support the various modules involved. At Mornsun, we are constantly updating our power solutions, allowing our customers to take advantage of the latest technology in new energy, including power generation and distribution of PV and wind. If you are looking to harness and control power for a renewable energy source, then Mornsun has the solutions for you, offering everything from isolation converters and voltage regulators to integrated IGBT drivers.
For more information, feel free to contact us.