Reliability & Applicability: AC/DC DIN Rail Power Supply with High Performance - 15-480W LI Series
Just as its name suggests, the DIN rail power supply has rail clips in the enclosure design, which can be directly installed on the 35mm DIN rail in the electrical cabinet same as contactor, relay and terminal. At present, the market is dominated by single-phase and three-phase rail power supply.
DIN rail is based on a series of standard rails created by the Deutsches Institut für Normung (DIN). The electrical components supporting this standard can be easily clamped on the rail without screws, which is very convenient to disassemble and replace. Currently, many electrical components adopt this standard, such as PLC, circuit breaker, switch and contactor.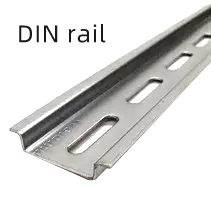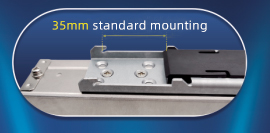 Nowadays, many automation equipment has strict requirements for time limits of the fault shutdown. The rail power features convenience and speed, which is more suitable for the rapid maintenance of automation equipment.
With huge development potential, fast iteration and continuous innovation, grasping the updated market dynamics, MORNSUN analyzed the market demand characteristics based on its advanced technology level of AC/DC products, integrating such multi-dimensional research and development achievements as circuit process design, component selection, EMC design, application reliability design, etc., and developed 15-480W DIN rail power supply LI series.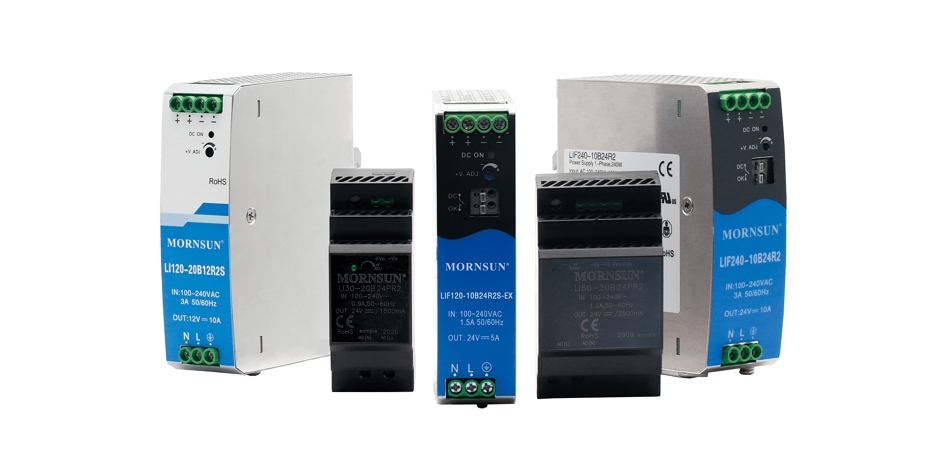 Ultra-thin design, easy to use and install, and upgraded protection
Optimized component selection and process structure with tiny volume
In recent years, the development trend of miniaturization and lightweight of equipment on the market is increasingly emerging, and more and more attention is paid to the space requirements. Compared with the rail power supply of the same power on the market, the thickness of LI series DIN rail power supply is reduced by more than 30%, so the LI series tend to be light and compact, which greatly improves the space utilization.
Upgraded enclosure protection
Based on the special application environment of DIN rail on the market, MORNSUN optimizes the shell and ensures the outer frame is protected by nickel plating and the coating is thickened to improve the anti-corrosion oxidation ability so that the LI series can be better applied to the relatively special environment, such as rain forest belt, vegetable shed and other areas with high humidity sensitivity. The screw uses a double-layer anti-skid gasket to reduce the grounding resistance and improve the anti-vibration performance, which is more suitable for the areas with strong vibration performance such as mechanical manufacturing equipment and logistics sorting.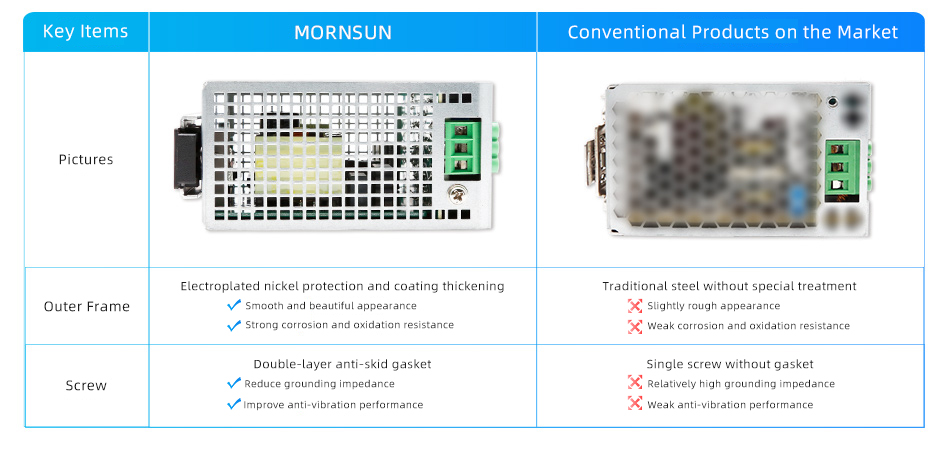 Strong anti-interference ability to meet the "intercom" experiment
The interference radiation strength of the intercom is close to 300V (distance equal to 10cm), which is much higher than the industry standard 10V/m and can simulate the stability of the power supply in a high electromagnetic field environment to the greatest extent. LI series products can still work stably under the strong interference environment of intercom operation, ensuring the stability of electrical characteristics of the system.

Reduce cost and increase efficiency
Optimize heat dissipation design to improve conversion efficiency
According to the life calculation of the electrolytic capacitor, its life is reduced by half for every 10 ℃ increase in temperature. Through the optimized design of circuit topology, LI series improves the efficiency of power supply of the whole machine, reduces power loss, up to 94% with lower heat loss, and fundamentally strengthens the service life of products and the tolerance to the high-temperature working environment.
According to the test and comparison of the same type of 240W DIN rail power supply on the market, LIF series (with active PFC function) has obvious advantages in efficiency and temperature rise indicators.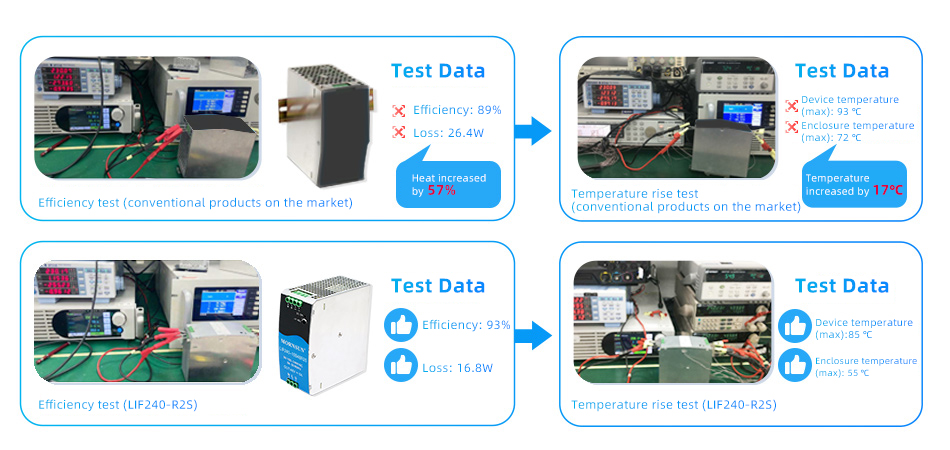 Safe and reliable, excellent and widely applied
High degree of process automation
The device layout in product design is very important to product performance. If the device layout is not carefully planned, it will bring a series of adverse reactions, such as complex processing technology, high human risk, errors, poor heat dissipation and low reliability. Most of the internal devices of LI series products meet the requirements of AI automation plug-ins and could reduce production costs. The main power device is in contact with the enclosure and simplifies the layout. A convection design heat dissipation design system can effectively improve the heat dissipation performance.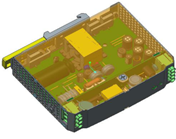 Schematic diagram of internal components of LI series
Wide range of operating temperature and comprehensive reliability evaluation

The operating temperature of -40℃ and above 70℃ is acceptable for LI series. Its quick start in a low-temperature environment is not limited and the temperature rise of components in a high-temperature environment is low with long service life, which can be applied all over the world. At the same time, it meets all aspects of reliability assessment in terms of environment, packaging and structure.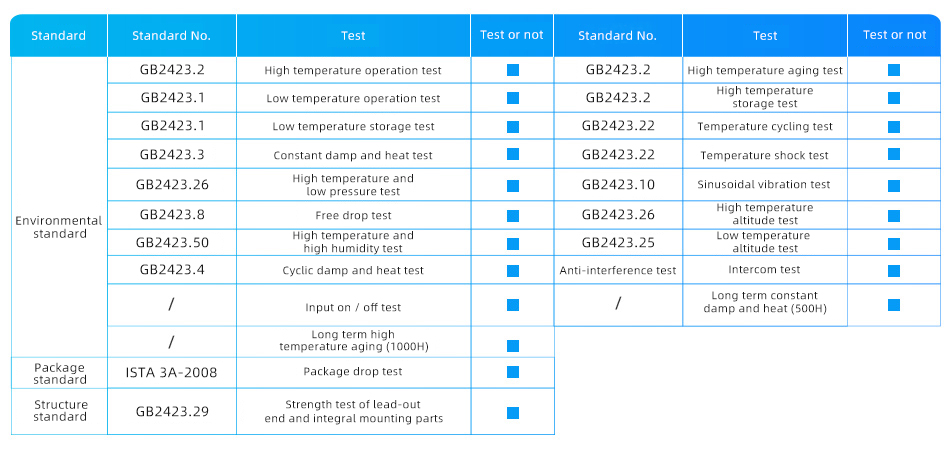 Explosion-proof power supply
For petrochemical, explosion-proof and other applications with special needs for explosion-proof, LIF-EX series meets ATEX (product) and IECEx (system) increased safety explosion-proof certification / standard (double certification/standard) and withstands harsh environment with an operating temperature range of -40℃ to +85℃. It also possesses excellent electromagnetic compatibility performance, as CE report and RE meet CLASS B, in accordance with customers' expectations for safety in special applications.
Break trade constraints to build a sustainable supply capacity
Subject to the risk of supply interruption in material supply, it will inevitably prolong the delivery cycle. The raw materials of MORNSUN power supply are offered by multiple brands to ensure the sustainable supply of products.
In addition, covering a production area of up to 60,000 square meters, MORNSUN has established more than 20 SMT lines, with an overall automation degree of more than 60%, and the automation degree of some product lines can even be as high as 85%, with a production capacity of 121KK / year, so as to ensure rapid delivery.
1000 + mature application solutions enable rapid service response
Different from consumer products, the pre-sales and after-sales services of industrial products are particularly important. MORNSUN, owning more than 1,000 power supply design and industrial application cases, has established a fast, efficient and considerate FAE team for this purpose, with all-round technical support and senior FAE localization office, so as to realize on-site response in local and surrounding cities within 4 hours and solve problems in customer application, providing customers with a full range of pre-sales and after-sales services.