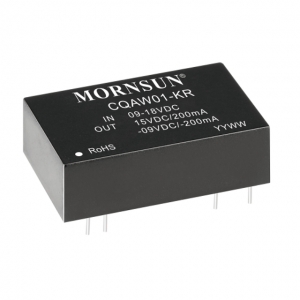 CQAW01-KR
*Picture is for reference only, please refer to the actual product or datasheet for details.
MORNSUN Driver-LED/IGBT Driver(SiC/GaN)
Part No. : CQAW01-KR
Vin(VDC): 12(9-18)
Iout(mA): ±200/±10
Operating Temperature: -40℃ to +85℃
Positive Output(VDC): 15
Negative Output(VDC): -9
Efficiency(%): 85
Isolation(VAC): 3000VDC
Package: DIP
Features: Short-Circuit Protection
Footprint & 3D: -
Certification: -
Can't find the product you are looking for?
1.Probably the easiest is to use our Parametric Search.
2.Go to our Product Center.
3. Or simply enter some relevant keywords that describe the item you require and click the search button.Our search engine will provide you with a list of the most relevant matches such as product news or datasheets.
If you're still unable to locate your item please contact us and we will assist you.