With the trends of terminal equipment's miniaturization (e.g., inkjet machines, coffee machines, etc.), conventional switching power supplies can no longer meet the higher demands in the aspects of size and performance.
MORNSUN keeps on innovation, following technological development, and investigating industry trends, and now blockbusters launching the new generation Enclosed Switching Power Supply - LM-R2 Series.
LM-R2 Series has a wide power range of 35-350W, featuring a wide output voltage range of 5-54VDC, and a significant improvement in the dimension, performance, process, structure, etc. Moreover, LM-R2 series products have 47 R&D patents, exceeding the mainstream products on the market.
Advantages of AC/DC enclosed power supplies LM-R2 series

Lower operating costs
LM-R2 series' efficiency is up to 92.5% thanks to circuit innovation, leading to performance upgrading, such as operating temperature range, load capacity, leakage current, EMC, etc.
This helps to save energy costs and operating costs.

More space in your systems
LM-R2 series' dimension is reduced by 15.4%-49.4%, and power density is better (average 6.3W/inch3, up to 9.8W/inch3), saving customers' design space.
At the same time, the weight of the product is reduced by about 35% compared with the mainstream product.

More stable for whole system
LM-R2 series transient load minimum 115% can maintain 170ms, easy to meet the requirements of non-resistive load start-up transient high power, and outstanding EMS performance.
They ensure the stable operation of the system.
Application areas

Industrial

LED

Street light control

Electricity

Security
Telecommunication

Smart home
Power solutions for Small Character Printer

Power Solutions for Electronic Bus Stop Sign

Mornsun Higher Standard AC/DC Enclosed Power Supply in All Aspects--LM-R2 series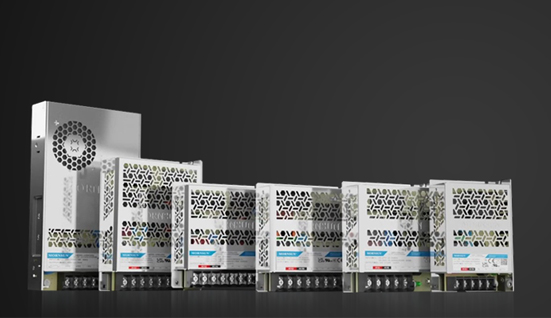 MORNSUN - AC/DC Power Supply Manufacturer
Technical team. Our R&D engineers at MORNSUN have designed varied AC/DC power supplies catering to the various needs of your power systems. You can choose one or more of our advanced and cost-efficient components, spacing from board mount AC/DC converters and enclosed switching power supplies to DIN Rail power supplies. Guided by the service principle of "trustworthiness", MORNSUN offers the best products, fast and local service, and efficient pre-sales and after-sales support for clients worldwide.
MORNSUN provides professional power supply services. Backed by a perfect management system that consists of advanced research technology, a high-quality raw material platform, advanced equipment, excellent manufacturing process management, specialized screening sequence on reliability and rich experience, each solution from MORNSUN is designed to improve the stability, safety, and reliability of your power system.
Contact us now to request a sample and a quotation!