4200VDC High Isolation Automotive DC/DC Converter-CFB0505XT-1WR3
MORNSUN launched a new SMD DC/DC converter module CFB0505XT-1WR3 which is specifically designed for automotive applications. This new module CFB0505XT-1WR3 meets automotive EMC standards and AEC-Q100 requirements. Besides, CFB0505XT-1WR3 features compact size, 3000VAC/4200VDC high isolation voltage, operating temperature range of -40℃ ~+105℃, which make it ideal for automotive applications with efficiency up to 82% and output continuous short-circuit protection.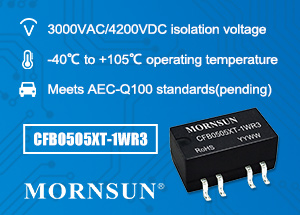 Applications of DC/DC Converter-CFB0505XT-1WR3

Widely used in applications of automotive, rail transportation, industrial control, etc.

Features
of DC/DC Converter-CFB0505XT-1WR3

● Meets automotive EMC standards
● Meets AEC-Q100 standards(pending)
● I/O isolation test voltage 3kVAC/4.2k VDC
● Continuous short-circuit protection
● Operating ambient temperature range: -40℃ to +105℃
● Compact SMD package
● Industry standard pin-out
● EN62368 approved