R3 DC/DC converter for DTU Application
| | |
| --- | --- |
| | DTU (Data Transfer unit) transmits the data of remote devices to the control center wirelessly, which is widely used in the electric power industry, environmental protection, physical distribution, hydrology, meteorological industry, etc. |
Typical Application of DTU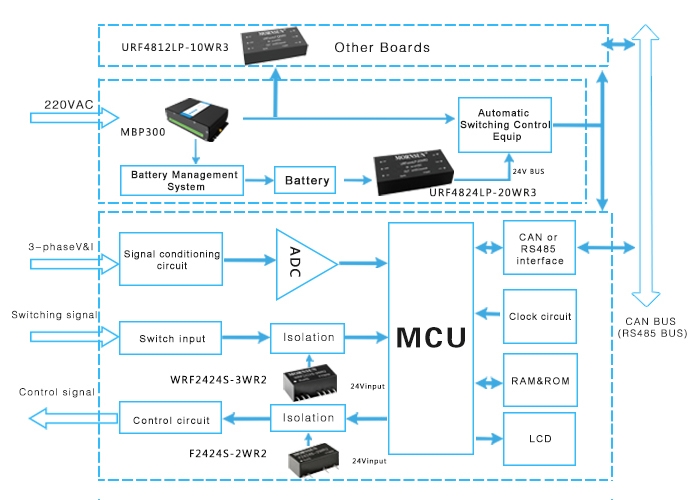 The figure is a DTU application in the power distribution system. DTU collects the three-phase current signal, voltage signal, and switching signal, and then operates according to the analyzed data.
1. Uninterruptible power supply (double power supplies). Switching power supply and accumulator can automatically switch to each other.
2. DC-DC converters accept voltage change caused by the charge and discharge of the accumulator.
3. DC-DC converters support 24V/48V input of the accumulator.
4. High isolation voltage prevents coupled interferences from the AC end.
5. If the main power supply and the accumulator are both powers down, the protection time is longer than 500ms.
Recommendation: URF_LP-20WR3

- 4:1 wide input voltage range;

- 3000Vdc isolation voltage;

- Efficiency up to 89%;

- No-load consumption down to 0.12W;

- Operating temperature range:-40℃~+85℃;

- Short-circuit, over-current, over-voltage, under-voltage protection;

- Chassis / DIN-Rail mounting options.
Recommendation: MBP300 Series

- Input voltage range: 165~265 Vac;
- Low stand-by consumption;
- Meets DL/T721-2013 standard;
- The lead-acid battery is rechargeable;
- Charge & discharge management function;
- Battery activation function.
---
Mornsun Guangzhou Science & Technology Co. Ltd.
No.5, Kehui Development Center, Science Ave., Guangzhou Science City, Luogang District, Guangzhou
Tel: +86(20)38601850 Fax: +86(20)38601272
Email: info@mornsun.cn Website: http://www.mornsun-power.com/