120W AC/DC DIN-Rail Power Supply LIF120-10BxxR2-EX Series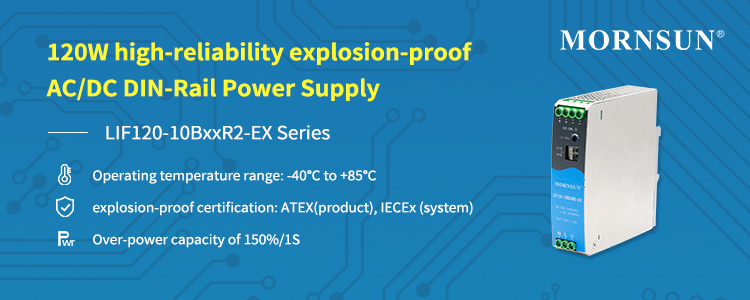 In petrochemical and explosion-proof applications, specific explosion-proof and security of the devices are necessary. MORNSUN explosion-proof AC/DC DIN-rail power supply LIF120-10BxxR2-EX is specially designed for these applications. The 120W AC/DC DIN-rail power supply with an input voltage range of 85 - 264VAC has the advantages of compact size of 32*12*110mm, wide operating temperature range of -40℃ to +85℃, and explosion-proof of ATEX.
Performance and advantage:
1) Explosion-proof certification
As industrialization progress continues to grow, product reliability and explosion-proof safety levels are increasingly valued by the industry. As an international explosion-proof certification system, ATEX and IECEx play an important role and offer assurance in assisting safe production for companies. MORNSUN was honored with this certificate, which means that its series of switching power supply such as the LIF-EX series AC DC DIN-Rail power supply is up to European leading explosion-proof standards. Significantly, it helps to shorten the certification cycle for products, meet the requirements of the international market as soon as possible, and fasten the product launch to the market for our customers.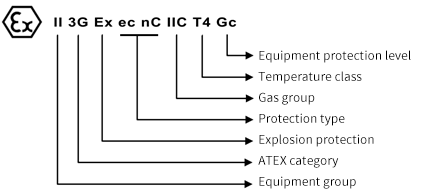 ATEX(product), IECEx (system)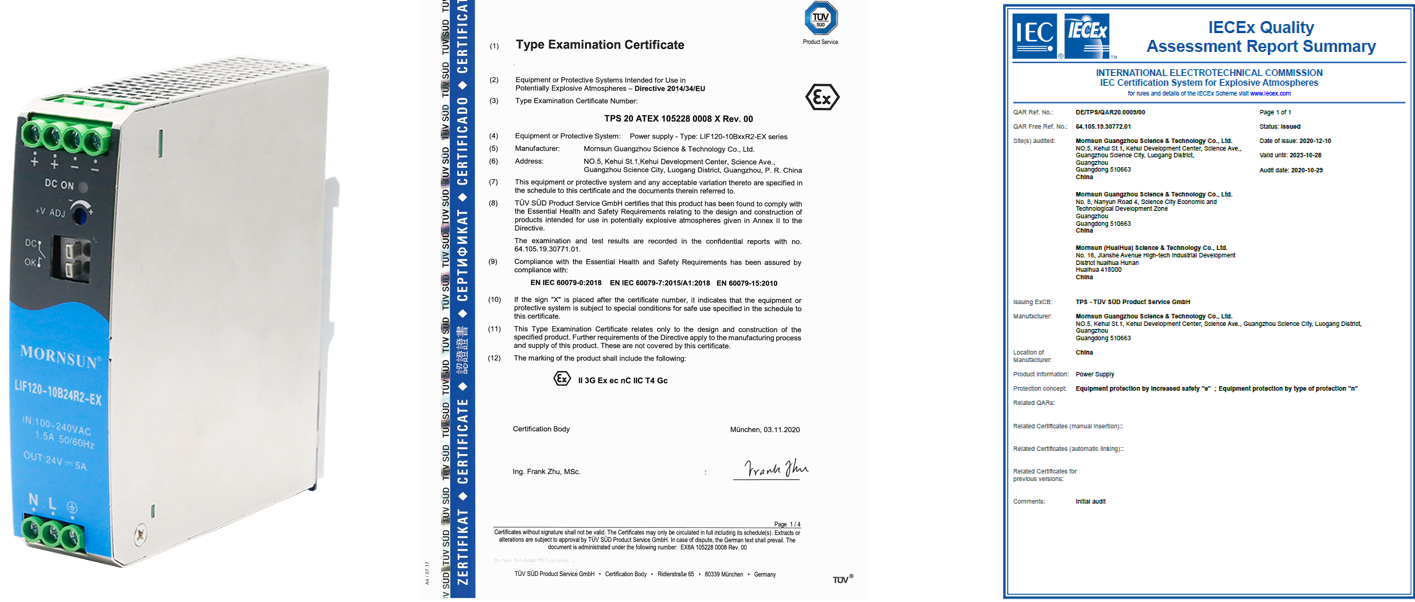 ATEX & IECEx certiffications
2) Smaller and lighter

Special transformer design and reduce redundancy design of the module reduce the overall dimension by 10%. It weighs only 500 grams and is only 32*12*110mm, which makes it more convenient to be used and installed.
3) High efficiency
Soft-switching design, 3% efficiency increase; energy saving, green power supply.
4) High reliability
CE, RE meet CLASS B, Surge, EFT, ESD, RS, CS meet Criteria A (walkie-talkie proximity interference test)
3-year warranty.
5) Cost-effective
LIF120-10BxxR2-EX is designed for the practical demand of explosion-proof applications, the advanced design and manufacturing process makes it a cost-effective power solution for customers' applications.
Product application of LIF120-10BxxR2-EX
Applications include industrial control, LED, street light control, electric power, security, communication, smart home and other fields, especially suitable for petrochemical, coal mines and other places with explosion-proof requirement.

Typical application: petrochemical, coal mines and other places with explosion-proof requirement.
Features of LIF120-10BxxR2-EX
● Input voltage range: 85 - 264VAC/120 - 373VDC
● Accepts AC or DC input (dual-use of same terminal)
● Operating temperature range: -40℃ to +85℃.
● DC OK function
● DC ON output status indicator LED
● Output short circuit, over-current, over-voltage,over-temperature protection
● Withstand 300VAC input for 5s
● Safety according to IEC/EN/UL62368, IEC/EN60079
● ATEX, IECEx increased safety type explosion-proof certification approved
● Over-power capacity of 150%/1S, short-circuit constant current up to 200%, high over-load capacity