15W AC/DC Converter for flexible design-encapsulated LS15-23BxxDR3 Series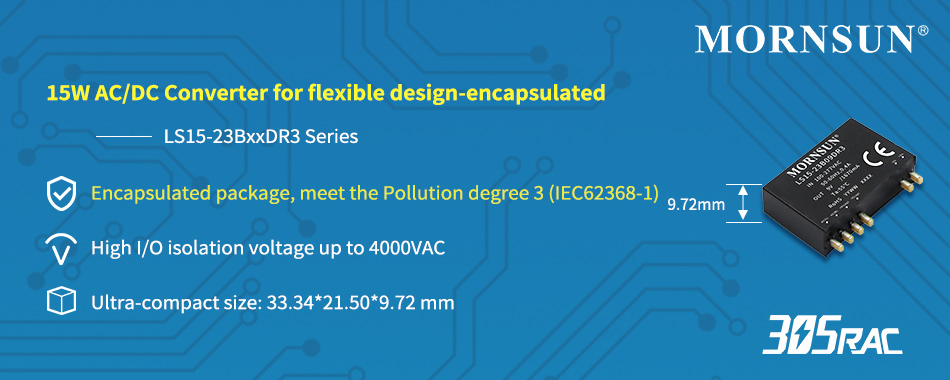 It is necessary to keep the safety distance between the open-frame power converter and the peripheral circuit in compact layout applications, and encapsulated AC/DC converter can greatly reduce the distance.
Mornsun as a professional ac dc converter manufacturer, expands the power range on the basis of the 5W series and launches the 15W ultra-thin encapsulated AC/DC converter LS15-23BxxDR3 series. Based on the features of ultra-compact and flexibility in the LS-R3 series, the new series is in an encapsulated package, meets the Pollution degree 3 standard, and satisfy space-limited applications.
Advantages of AC/DC converter LS15-23BxxDR3 series
1. Ultra-compact size:
33.34*21.50*9.72 mm, the ultra-thin and long-narrow design solves the space limitation problem.
2. High protective and high reliability encapsulated package
a. High protection encapsulated SIP package meets the Pollution degree 3 standard, better corrosion resistance.
b. High I/O isolation voltage up to 4000VAC, good electrical insulation
c. Comply with IEC/EN/UL62368-1, IEC/EN60335-1, IEC/EN61558-1 standard.
3. Ultra-wide input voltage range:
85 - 305VAC, accepts AC or DC input (dual-use of the same terminals).
4. Wide operating temperature range:
-40℃ to +85℃, full load at 55℃, 50% load at 85℃.
5. Good EMC performance
The CE and RE allowance is sufficient and can meet CLASS B with simple peripheral circuits.
Applications of ultra-thin encapsulated AC/DC converter
This ac dc converters LS-R3 series can be widely used in industrial control, power instrumentation, smart home and other applications with strict layout requirements. For an extremely harsh EMC environment, we recommend using the peripheral circuit if needed.


Features of LS15-23BxxDR3 series
Ultra-compact size: 33.34*21.50*9.72 mm

Ultra-wide input voltage: 85-305VAC/100-430VDC

Wide operating temperature range: -40℃ to +85℃

No-load power consumption as low as 0.1W

High efficiency up to 84%

Meet Pollution degree 3 standard (IEC62368-1), better corrosion resistance

High-reliable encapsulated package

High I/O isolation voltage up to 4000VAC

Good electrical insulation