DC/DC Parallel Redundancy Module LIR-20 Supporting for N+1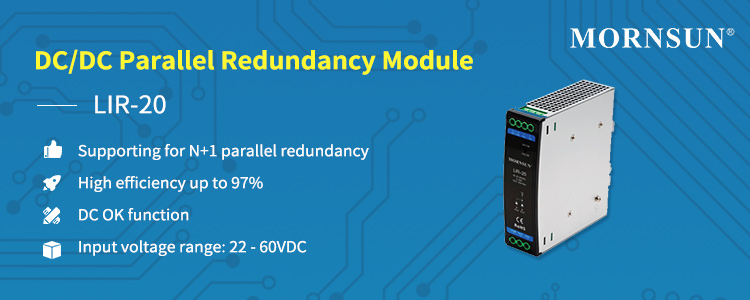 Introduction of DC/DC Parallel Redundancy Module LIR-20
In order to solve the power interruption problem caused by circuit abnormality in the actual application, MORNSUN launched the parallel redundancy module LIR-20 to help customers achieve the system redundancy function and improve the overall system reliability.

MORNSUN DC/DC parallel redundancy module LIR-20 can be combined with a power supply to build a 1 + 1 and N + 1 parallel redundant system. At the same time, current stress can be reduced. The LIR-20A has the DC OK function and LED status indicator light, so the customer can monitor the working status that it improves product reliability and convenience to the customer.

The power supply can enter or exit arbitrarily under continuous power situation. It achieves online maintenance of the system and greatly saves installation and maintenance costs. Module maintenance and replacement will be simple and convenient, and system recovery takes only a few minutes.
Application

of DC/DC Parallel Redundancy Module LIR-20
It can be widely used in smart buildings, communications, electricity, security, medical, industrial control, logistics, and other fields.

General application 1 (Inverter system):
(1) Connecting the 200W high voltage input PV200-29B24 power supply and 240W AC/DC power supply in parallel at the primary side.
(2) Using QA and QC692 IGBT driver in IGBT drive circuit.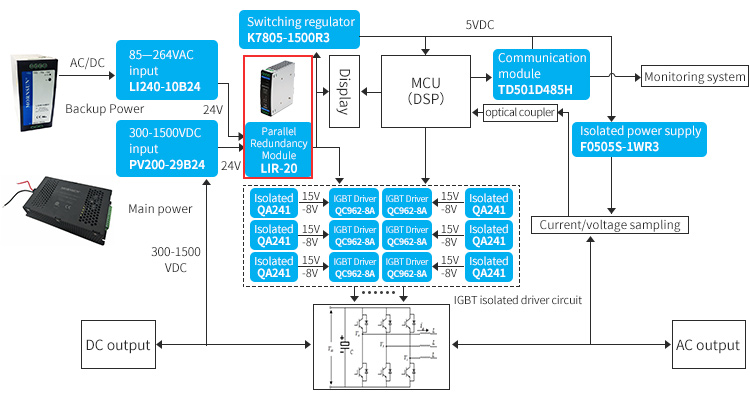 Key point:
Power supply at the primary side features high power, ultra-high input voltage range, 1500V safety design, and certification. And it has a special potting process with high temperature and humidity resistance, cold and hot shocks, and dust pollution.

The power supply is redundantly connected in parallel at the primary side that can safely and reliably solve the consumption of high power in parallel.
General application 2 (industrial control):

(3) Two LI120-20B24 rail power supplies are used at the input side, and LIR-20 redundant module is used at the output.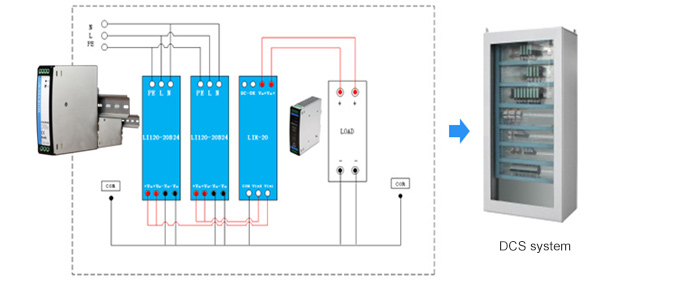 DCS system, PLC system, a computer system with a high power requirement
Application circuit:
a, 1+1 Redundancy: Using one or more PSU as the redundant unit.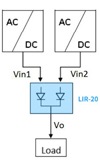 b, Single Use: Connecting only one PSU to one LIR-2 module to reduce the stress of the diodes and improve the reliability.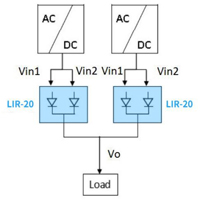 c, N+1 redundancy:multiple switching power supply redundancy to improve system stability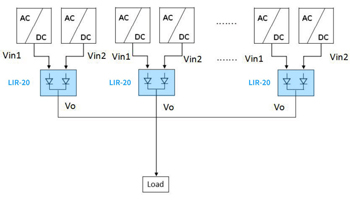 Features of

DC/DC Parallel Redundancy Module LIR-20
● Input voltage range: 22 - 60VDC
● Operating temperature range: -40℃ to +80℃
● Supporting for N+1 parallel redundancy
● DC OK function

● DIN-Rail Package(Applicable types EN50022: TS-35/7.5 or TS-35/15)

● Two input status indicators(Vin1、Vin2)

● High efficiency up to 97%
● MTBF>1000Khrs
● Operating altitude up to 5000m
● EN62368 safety approved, Meet IEC/UL62368, EN61558, EN60335