EMC Filter for LS01/LS03/LS05 AC/DC Converter——FC-L01DR2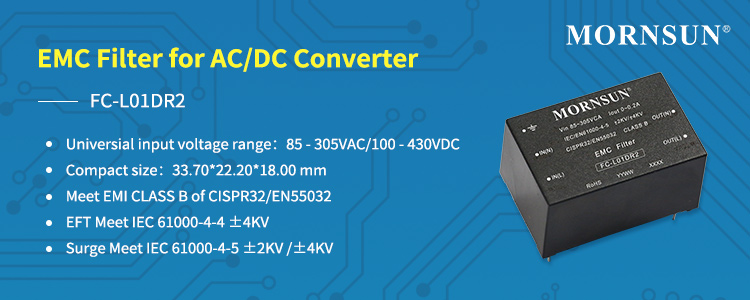 Introduction of EMC Filter for LS01/LS03/LS05 AC/DC Converter—FC-L01DR2

MORNSUN FC-L01DR2 is the external EMC filter for LS01/LS03/LS05 AC/DC converter. Installing this filter in the input side of the AC / DC converter can meet the ± 4KV pulse group of IEC / EN61000-4-4 standard,the ± 2KV / ± 4KV surge of IEC / EN61000-4-5 standard, and EMI limiting value as CISPR32 / EN55032 CLASS B.
Application of EMC Filter for LS01/LS03/LS05 AC/DC Converter—FC-L01DR2
It is suitable for occasions with high EMC requirements, such as environmental data acquisition controller, frame circuit breaker, power acquisition meter, centralized meter reading system, and intelligent environmental monitoring system.

Features of LS01/LS03/LS05 AC/DC Converter—FC-L01DR2
● Universal input voltage range:85 - 305VAC/100 - 430VDC
● Compact size:33.70*22.20*18.00 mm
● Operating temperature range:-40℃ to +85℃
● Ensure the power supply module to meet EMI the requirement of CISPR32/EN55032 Class B
● EFT Meet IEC 61000-4-4 ±4KV,
● Surge Meet IEC 61000-4-5 ±2KV /±4KV
● Flexible package options include PCB, chassis or DIN-Rail mounting