15-30VDC Wide-input Bidirectional DC/DC Converter - MBP2403RP-2A/3A/5A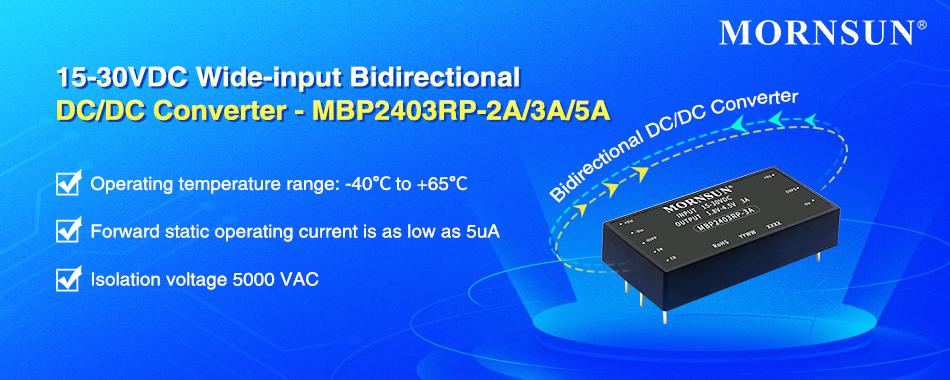 More and more users are concerned about battery lifespan and efficiency as battery applications become more widely used. To address these concerns, MORNSUN has developed the MBP2403RP-2A/3A/5A bidirectional active balanced DC/DC power supply module. It features a wide input voltage range, ultra-low standby power consumption, and an isolation voltage of up to 5000 VAC, making it an efficient and safe solution for the user's system.
Advantages
1. Bidirectional active balanced design to achieve efficient energy conversion
MBP2403RP-2A/3A/5A has an input voltage range of 15-30VDC and an output voltage range of 1.8-4.5VDC, which can match ternary lithium-ion batteries, lithium iron phosphate batteries, and other battery types. The products support constant charging currents of 2A/3A/5A in forward work and discharge current to nearly 2A/3A/5A in reverse work. Its bidirectional active balanced design not only enables energy conversion in both directions but also increases its efficiency compared to traditional passive balanced designs. Additionally, the static working current of these products is as low as 5uA, which greatly improves the standby time of the battery.
On the other hand, MBP2403RP-2A/3A/5A can also greatly slow down the capacity attenuation of the battery system to better ensure the system life. Ideal for those seeking to optimize battery system performance and reduce costs associated with battery replacements.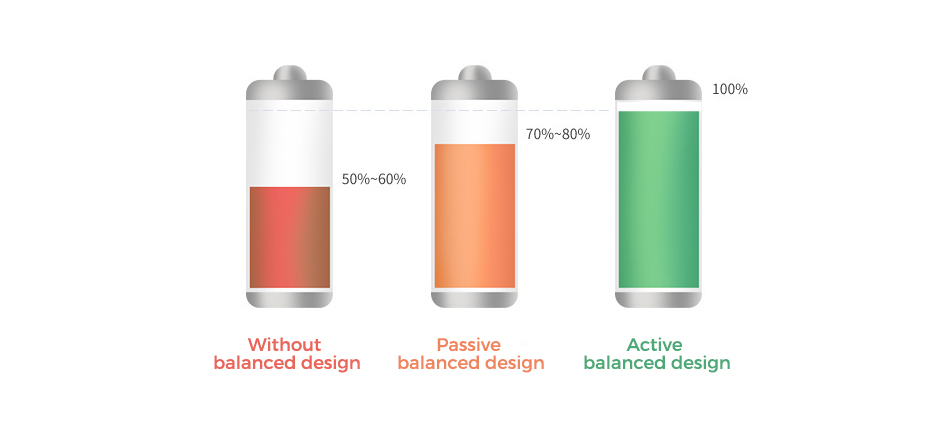 When operating at the same temperature, battery systems using different balanced modes may experience varying losses within the system. The battery system will be limited by the most degraded battery.
2. High reliability
The product has an isolation voltage of up to 5000VAC which makes it safe, reliable, and applicable to various applications. Additionally, it can reduce interference in the dual channels and has input under-voltage protection and output over-voltage protection, which effectively safeguards the system's safety.
Applications
Bidirectional DC/DC converter can be used in battery BMS active balanced occasions, such as: new energy vehicles, industrial, and commercial energy storage, etc.

Features
Two-way switching power supply

2:1 Wide input voltage range

Efficiency up to 78%

Forward static operating current is as low as 5uA

Reverse static operating current is as low as 100uA

Isolation voltage 5000 VAC

Forward constant current output

Operating temperature range: -40℃ to +65℃
* For detailed information please refer to the related datasheet, product news is for reference only.