15-75W Open Frame AC/DC Converter Specialized For Electric Power - LOxx-23B-E Series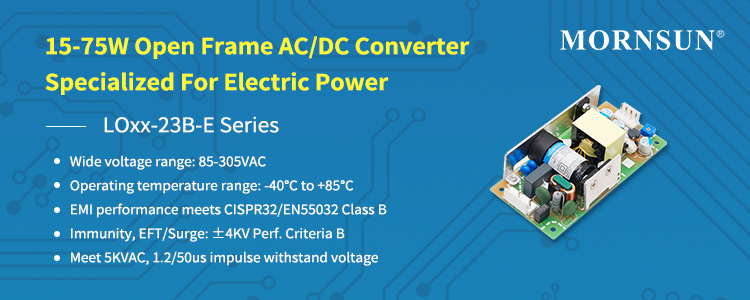 1. Introduction of LOxx-23B-E Series
To meet the demands of electric power for high applicability and reliability, Mornsun lunches open frame AC/DC converter specialized for electric power—The LOxx-23B-E Series. The power range of LOxx-23B-E Series covers 15/30/50/75W to meet the different demands of the electric power.
These modules comply with the electric power standards, compatible with similar products in the market, suitable for the smart-grid industry.
1). There may be power failure caused by the potential voltage fluctuations in the front end, and these modules have an input voltage of 85 - 305VAC/88 - 430VDC, which can run well even under transient high voltage conditions. )
2). In the complex working environment of power grid, it requires a relatively high operating temperature for the power supply. LOxx-23B-E modules have an operating temperature from -40℃ to +85℃,satisfying the requirements of high and low temperature.)
3). The electric power has a complex environment with many potential electromagnetic interferences, and power supplies are required to meet high EMC performance. This series of products are safe and reliable, EMC and safety specifications meet IEC/EN61000-4, CISPR32/EN55032, UL/EN/IEC62368 standards, EMI performance meets CLASS B. At the same time, surge immunity is up to 4 kV, strong anti-interference capability, and harsh adaptability Environmental applications.
2. Product Application of LO15/30-23B-E
LO15/30-23B-E is widely used in smart grid applications with poor power quality and high reliability requirements, such as microcomputer protection equipment, bus voltage protection devices, or equipment with 110VDC input requiring high reliability in intelligent transmission and transformation station.

3. Features of LO15/30-23B-E
● Universal voltage: 85 - 305VAC/88 - 430VDC
● Operating temperature range: -40℃ to +85℃
● Output short circuit, over-current, over-voltage, over-temperature protection
● High efficiency and reliability
● Constant voltage output, low ripple noise
● EMI performance meets CISPR32/EN55032 CLASS B
● Immunity, EFT/Surge: ±4KV Perf. Criteria B
● Meet 5KVAC, 1.2/50us impulse withstand voltage
● Meet UL/EN/IEC62368 standards