According to the Global EV Outlook 2021, global electric car stock reached 10 million units in 2020, showing a 41% increase compared to 2019. The global electric vehicle market size is projected to grow from 4,093 thousand units in 2021 to 34,756 thousand units by 2030, at a CAGR of 26.8%. And given the growing demand for low emission commuting, governments also significantly support installing electric vehicle charging stations through subsidies and tax rebates, so as to speed up the growth of their country's EV charging networks.
As an experienced manufacturer of one-stop power supply solutions, MORNSUN has a line of products engineered for charging station applications and to address the challenge of the latest in electric vehicle charging technology.
AC/DC Power Supply Design Requirements for EV Charging Stations
Two different types of EV charging stations
It is mainly divided into AC charging stations and DC charging stations. AC charging stations are divided into AC Level 1 EVSE and AC Level 2 EVSE, which deliver AC power from the wall to the on-board charger of the vehicle. AC charging stations are generally small current charging piles, flexibly installed, and it takes an average of 8-10 hours for a full charge depending on the vehicle. They are very suited for small passenger electric vehicles, mostly used for residential applications, as well as fleet, multifamily, shopping malls, offices and other commercial space. DC charging pile is a high-powered Level 3 charger. It delivers DC energy bypassing the on-board charger to the battery. DC charging station draws large current, with a large pile body armed with large charging capacity, and is usually able to charge the battery to 80% of the charging state within 30 minutes. DC charging stations are suitable for fast DC charging of private electric vehicles, electric buses, hybrid buses, taxis, engineering vehicles, etc., and are mostly used in the public and workplaces.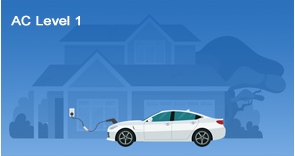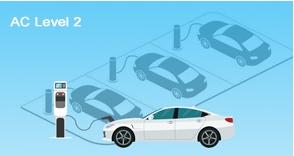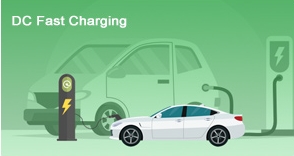 What are AC/DC power supply design requirements for EV charging stations?
Cost-efficient, compact and reliable AC/DC power supplies are critical for both the Control system of AC Charging Station and DC charging station. When designing the power supply for EV charging stations, you are faced with multiple challenges and requirements:
● High ability to resist voltage fluctuations and surges
● High ability to resist operating temperature changes
● Outdoor weather and environment conditions
● Other specific requirements based on the type of selected charging station power supply
Under different loads of distribution networks, abnormal voltage fluctuations can cause the input voltage of the charging station to drift high, so the power supply design requires to withstand the 300VAC surge input for 5 seconds or be compatible with the 300Vac input design.
AC/DC Converter for Electric Vehicle Charging Stations
MORNSUN's line of power products includes AC-DC converter, DC-DC converter, transceiver module, and SiC/GaN driver power supply. All our power supply solutions are well-adapted to meet the demands mentioned above. For example, both of our 1-15W open frame AC-DC converter LS series and 3-30W encapsulated AC-DC converter LD-R2 series offers compact size, a wide input voltage range of 85~305VAC that help meet the key requirements of power design for the EV control system. High efficiency up to 90% coupled with the extended -40℃ to +85 ℃ operating temperature range delivers more power and high reliability in harsh conditions. They also deliver good EMC performance with conducted emission and radiated emission meeting CISPR32/EN55032 CLASS B, which makes them highly reliable in some extreme conditions when charging.
Swipe to view all →
Charging
Stations
Sections
Considerations
of power design
Recommended
AC/DC power modules
Recommended
DC/DC power modules
Power solution for AC charging stations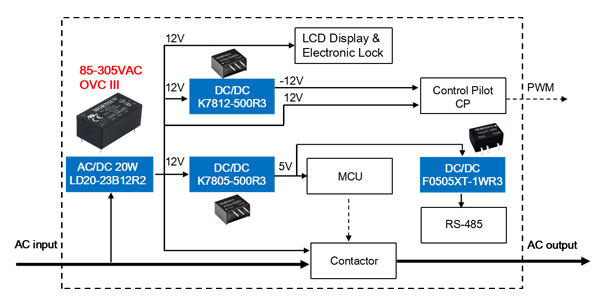 Control System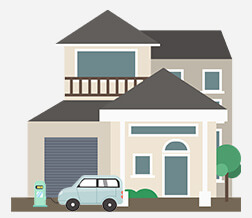 Power solution for DC charging stations
Control System
Off-board Charger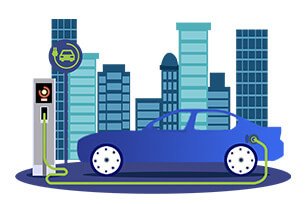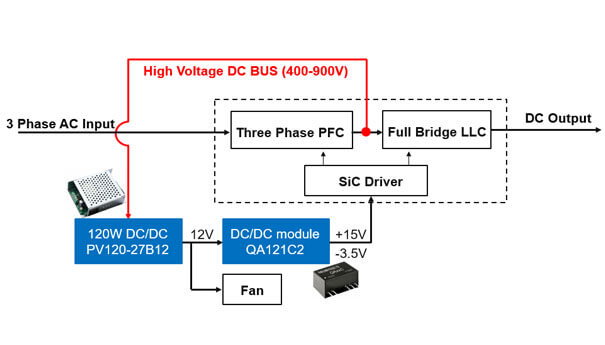 MORNSUN can also supply high-reliability custom self-powered power modules for off-board charger units, which can replace the AC power supply and provides power to SiC driver and fans, etc. Contact us for more details via
fae808@mornsun.cn
.
Application Cases
Mornsun Power Converter Video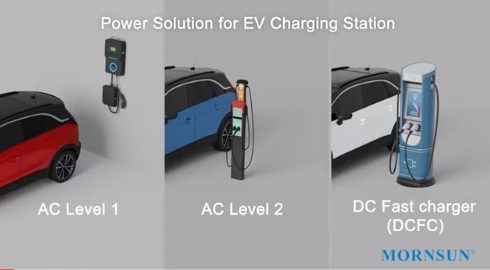 Learn more about MORNSUN's AC/DC Power Supply Lines
MORNSUN - AC/DC Power Supply Manufacturer
Technical team. Our technical engineers at MORNSUN have designed a series of solutions with your EV charging needs in mind. You can choose one or more of our advanced and cost-efficient components, spacing from isolation converters and enclosed power supplies to RS485/CAN transceivers and more. Guided by the service principle of "trustworthiness", MORNSUN offers the best products, fast and local service, and efficient pre-sales and after-sales support for clients worldwide.
MORNSUN provides professional power supply services. Backed by a perfect management system that consists of advanced research technology, a high-quality raw material platform, advanced equipment, excellent manufacturing process management, specialized screening sequence on reliability and rich experience, each solution from MORNSUN is designed to improve the stability, security, and reliability of your charging system.
Contact us now to request a sample and a quotation!