20W Ultra-thin Plastic DIN Rail Power Supply LI20-20BxxPU Series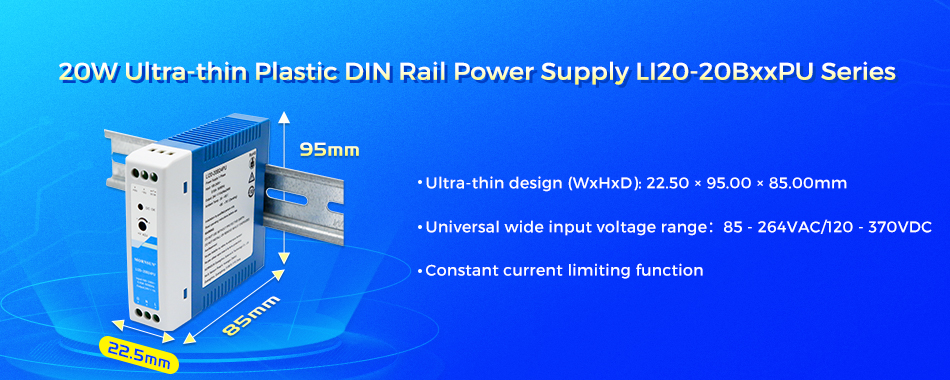 MORNSUN's new ultra-thin plastic DIN rail power supply series, LI20-20BxxPU, offers a wide range of output voltages, including 05/12/15/24 V.
This series features constant current limitation, a universal full-range AC input, 4000VAC high isolation voltage, and a 3-year warranty, providing a stable and safe power supply for customers' applications.
Advantages
1. Wide input voltage range
85 - 264VAC/120 - 370VDC, AC or DC input at the same terminal
It can take power directly from the system DC bus, simplifying the layout of the system wiring
2. High performance
Efficiency up to 86%

Operating temperature range: -30℃ to +70℃

Output short circuit, over-current, over-voltage protections

Constant current limiting function, solves the problem of capacitive loads and inductive loads such as motors
3. Ultra-thin design
The dimension of (WxHxD) 22.50 × 95.00 × 85.00mm, which is 10% smaller and 83% lighter than the similar product, can meet the compact chassis requirements. The standard DIN rail mounting can be directly replaced in the existing design and increase space utilization in the new design.
4. High reliability
Isolated voltage of 4000VAC for high withstand voltage requirements

EMI: CE & RE meets CLASS B

Design refers to EN/IEC/UL62368, UL61010, and UL508 standards
Applications
The products can be widely used in the fields of industrial control equipment, machinery, rail transit, and other industrial equipment in a variety of harsh environments.
The products should be used in a natural air cooling environment, if used in a closed environment, please contact our FAE team.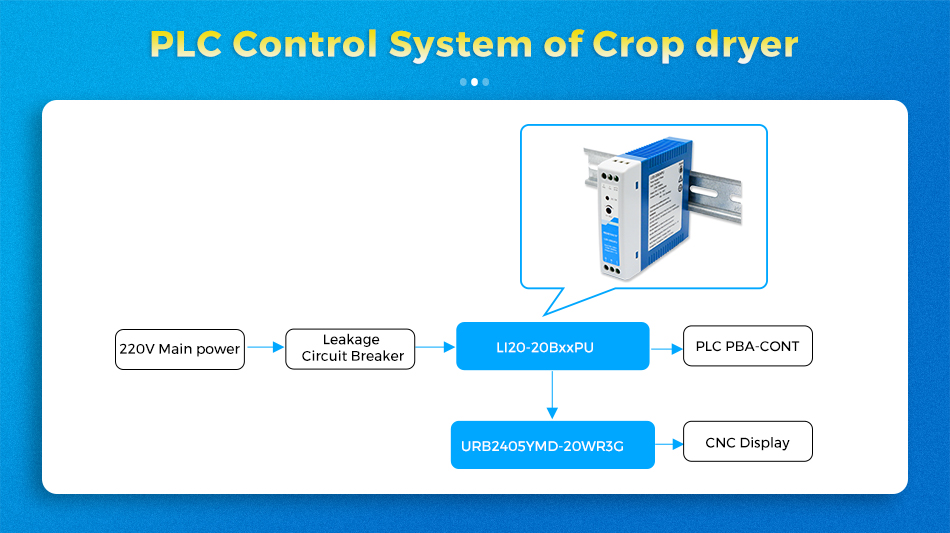 Features
Universal 85 - 264VAC or 120 - 370VDC Input voltage

Accepts AC or DC input (dual-use of same terminal)

Operating temperature range: -30℃ to +70℃

Efficiency up to 86%

High I/O isolation voltage up to 4000VAC

DC OK function

Operating altitude up to 5000m

Output short circuit, over-current, over-voltage protections

DIN rail TS35X7.5/ TS35X15 mountable

Design refer to UL/EN/IEC/BS EN62368, UL61010, UL508
* For detailed information please refer to the related datasheet, product news is for reference only.