15W 176-418VAC Input Voltage AC/DC Converter for Electric Power-LD15-25BxxR2 Series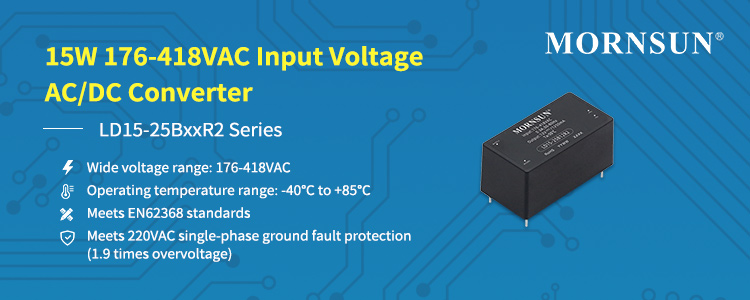 In order to solve the problem of 220Vac single-phase ground fault in electric power, MORNSUN launched a 15W AC/DC converter LD15-25BxxR2 series. The series features ultra-wide input voltage of 176-418VAC/248-591VDC, wide operating temperature of -40℃ to +85℃, efficiency of up to 85%, compact size of 52.40*27.20*24.00mm, low consumption of 0.3W and high reliability.
Advantages of LD15-25BxxR2
1) Compact size, easy to use
Its dimension is only 52.40*27.20*24.00mm, the optimized design satisfies customer's needs for space utilization.
2)Wide input voltage:176-418VAC/248-591VDC
It meets 220VAC single-phase ground fault protection (1.9 times overvoltage) and electric power standards, applicable to areas with large voltage fluctuations to enhance customer system reliability;
3) High reliability
a. Isolated voltage of 4000VAC;MTBF: MIL-HDBK-217F@25℃≥1000,000h; Multiple protections of output short-circuit, over-current, and over-voltage;
b. Long-term operation at 418VAC
4) Wide operating temperature range, low power consumption, high efficiency
a. Operating temperature range: -40°C to +85°C
b. No-load power consumption 0.3W
c. Efficiency up to 85%
5) Good EMC performance
EMI meets CISPR32/EN55032 CLASS B, EN55014;
Surge immunity meets level 3 with additional components and level 4 with peripheral circuit.
Applications of LD15-25BxxR2
It can be widely used in industrial control system, smart home, smart building, smart agriculture, household appliance and other fields, especially for those with high requirements of size and EMI. The output power of 15W and high capacitive load capacity (3000uF) satisfy customers' demand for high power.

Features
● Ultra-wide input voltage range: 176 - 418VAC/248 - 591VDC
● Operating temperature range: -40℃ to +85℃
● Efficiency up to 85%
● No-load power consumption 0.3W
● Meets 5000m altitude application
● EMI performance meets CISPR32/EN55032 CLASS B, EN55014
● Meets EN62368 standards