EN50155-compliant 6W Rail DC/DC Converters URA1D_YMD-6WR3 Series
MORNSUN 6W R3 DC/DC converters get popular in the railway locomotive industry, due to high reliability, low power consumption and multiple protections, since their introduction to the market. To meet the market demand for positive and negative outputs, MORNSUN further develops dual outputs Rail DC/DC converters URA1D_YMD-6WR3 series based on single output URB1D_YMD-6WR3 series.

URA1D_YMD-6WR3 series provide a wide input voltage range of 40-160VDC which is applicable to 72V, 96V and 110V storage battery system, on-vehicle power supply system in the railway industry. With the exception of dual outputs (positive and negative outputs) and isolation voltage up to 2250VDC meeting the railway standard EN50155, URA1D_YMD-6WR3 series also provide input under-voltage, output short-circuit, over-current and over-voltage protections. The series designed with international standard pin-outs, optional packages are PCB mounting, chassis mounting and DIN-Rail mounting. Applications include power DC distribution system, railway monitoring system, lighting equipment, air conditioning controller, information display and other related railway vehicle equipment.
Applications:
Locomotive Headlamp Automatic Steering Device


Features:
Ultra-wide input voltage range: 40-160VDC

Isolation voltage: 2250 VDC

Operating temperature: -40 to +85℃

Protections: UVP, SCP, OCP, OVP

Low ripple & noise

Reverse voltage protection available with A2S (Chassis mounting) or A4S (35mm DIN-Rail mounting)

EN50155, EN60950 (pending)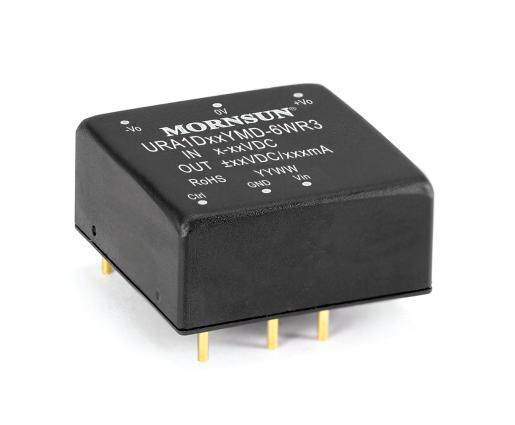 * For detailed information please refer to the related datasheet, product news is for reference only.