Power Supply Design of Logistics Robot
CONTENTS:
As automated management is the Trend of the Times, the logistics industry is transforming from a labor-intensive industry to automation, among which Amazon has completed the automation construction of warehouse management. With rising labor costs and operational efficiency being demanded, robots are showing a unique advantage in replacing labor and improving efficiency.
According to the 2021 Robotics report released by the International Federation of Robotics (IFR), the robot market has a turnover of more than 6.3 billion dollars, of which logistics robots account for one-third. It can be predicted that logistics robots will play an important role in intelligent logistics.

Logistics Robots
Power Supply Requirements of A Parcel sorting robots
A Chinese logistics company said that the express packages they deal with are up to 200,000 pieces per day. And thanks to the robot that can operate at high speed and meet the challenges of long working hours, high-intensity work, and under high-temperature operation.
Taking the parcel sorting robot as an example, as shown in the figure below, it is a stand-alone device that requires battery power to maintain its work. It is small and flexible with an overall size of no more than 90x70cm, which requires small and sufficient devices to maintain its work.

Parcel sorting robots
A power supply unit, as the heart of the robot, of which the DC/DC converters are the important component in it, must be meeting more strict requirements as the robots:
1. Wide input voltage range;
2. Small size, lightweight and cost-effective;
3. Can be used for a long time, high reliability;
4. High anti-interference ability to avoid interference from the motor.
MORNSUN's one-stop solution of power supplies
MORNSUN provides one-stop solutions of power supplies for multiple applications, including smart logistics. As shown in the figure below, a built-in 48V battery in the robot, ① power to the motor control unit directly, ② power to the motor control unit, the main control circuit, and the detection circuit by the switching power supply KUB4836EB10A, ③ power to the MCU by the isolated switch power supply VRB2405YMD-6WR3 (effectively reduce noise interference), ④ power to the signal detection system and the wireless communication module by the non-isolated switching regulator K7812MT-500R4 (provide stable power).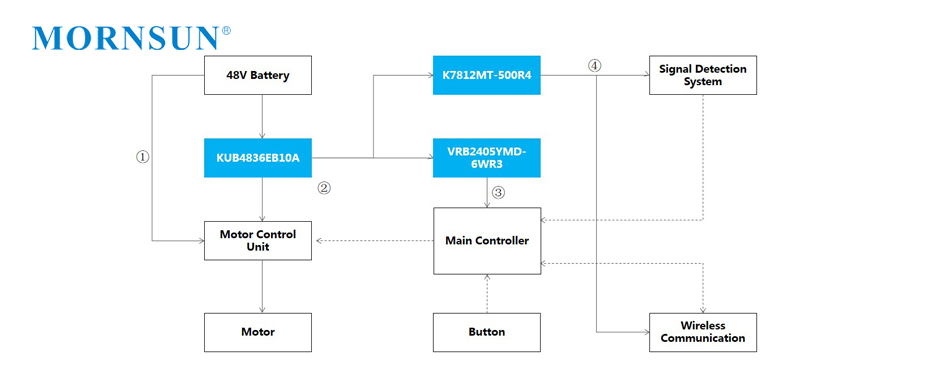 MORNSUN power design for logistics robots
The Compact Chiplet SiP Switching Regulators K78-R4 Series
It's worth noting that MORNSUN's 4th generation K78 switching regulator, different from the traditional linear switching regulator, adopts a SiP integrated circuit encapsulation, which perfectly meets the design of the miniaturized robot application.

MORNSUN K78 switching regulator reduces the volume by nearly 86% and the PCB occupied volume by 63% compared to the previous generation, which is more beneficial for system designers to design in limited geometric space, especially for applications with high requirements for dimension, such as portable devices and handheld devices, etc.
More features:
High efficiency up to 96%

No-load input current as low as 0.1mA → Low no-load consumption extends the battery life of the robot.

Wide operating temperature: -40°C ~ +85°C → Reduce the impact of environmental limitation.

Wide input voltage range: 6-36VDC → Compatible with 12V and 24V input.

High cost-effective: Affordable and durable.
MORNSUN Can Help More
For the diverse robots in the logistics applications, MORNSUN provides AC/DC Enclosed SMPS, AC/DC on board converters, DC/DC converter, transceiver module, signal conditioning module, power module to meet the design requirements of palletizing robot and moving robot, and helps to build the smart logistics with one-stop power solutions.
For further questions or request a sample, please feel free to contact us.