Power Solution for Rail Transit
Abstract: China has the world's largest high-speed rail network as long as 20,000 km so far, which not only comprehensively enhances the quality of China's road network but also further develops the regional economy coordinately. It constantly challenges the limits of technology and the natural environment and achieves a leading position in the world with independent intellectual property of high-speed rail system. China's rail transport continues to going out of China, to the world, step-by-step. And as part of the core parts of the rail, power supply is particularly critical. MORNSUN railway power converters provide you with a variety of highly reliable solutions in line with the railway standards.
Key words:Rail transit, railway power converter, EN50155, MORNSUN
I. Introduction
As a safe, efficient and environmentally friendly large-capacity transportation, urban and inter-city rail transit get a rapid development this year, which leads to a high-speed growth of urban rail high-speed rail equipment industry. However, no matter in or beyond China, there are very strict regulations for electrical and electronic equipment used on railway applications. EN50155 Railway applications-Electronic equipment used on rolling stock is the most commonly used in Europe and RIA12 in UK which more weights surge ability. And in China, there are TB/T3021-2001 Railway locomotive vehicle electronic device, TB/T3058-2002 Railway applications -- rolling stock equipment shock and vibration tests, TB/T3034-2002 EMC tests and limits for rolling stock apparatus, similar to European standards in many ways.


II. EN50155 Standards
EN50155 standards is the primary reference for MORNSUN's railway power converters.
a) Input voltage range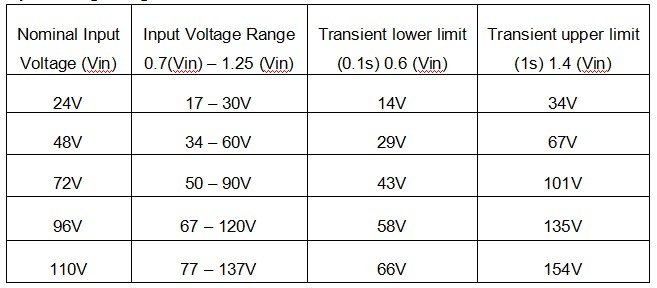 b) Interruptions of voltage supply
Interruptions of up to 10 ms may occur on input voltage as defined below:
-Class S1: no interruptions
-Class S2: 10ms interruptions
This shall not cause any equipment failure.
This time values specified are for nominal voltage and choice of classes shall be defined by the system designer.
c) Ambient temperature

d) Shock and vibration (reference: EN50155 & IEC61373: 2010)

Specifications: Car body 1 B mold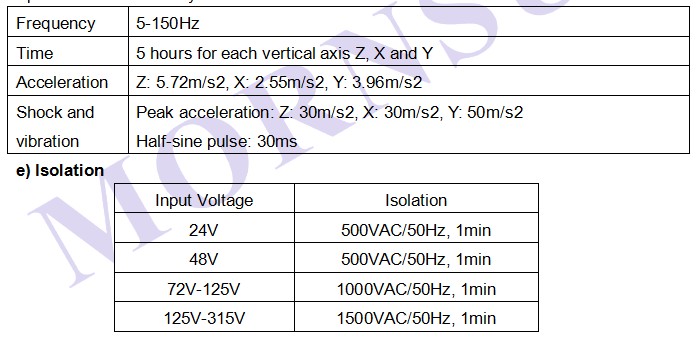 III. Power Solutions for Railway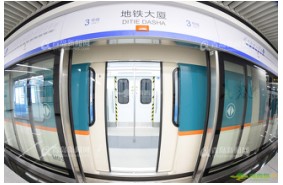 Application 1: Subway Sliding Plug Door-- DCU (Door Control Unit)
A sliding plug door is a door designed to seal itself
with steps of plug and pull by taking advantage of
pressure difference on its two sides and is typically used
on subway, train and so on. First, DCU send information
of door statue, safety monitoring, emergency switch and
others to the cab. Then, the cab gives orders to all DCU to control the opening and closing of the sliding plug door.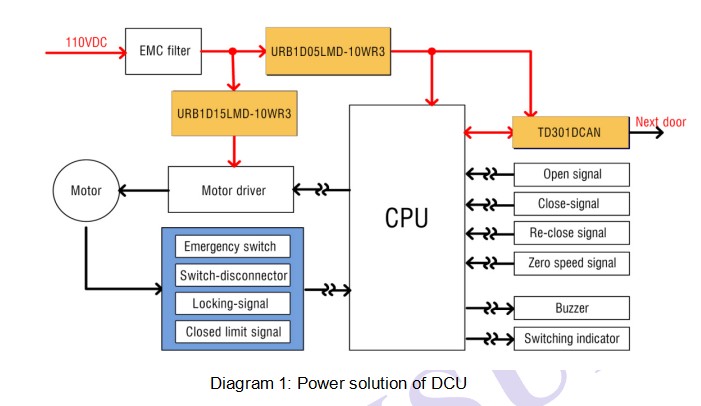 To ensure the electrical safety and common-mode interference protection capability, CPU system, the internal door control unit, should isolate from the motor, signal acquisition and other equipment. Therefore, it's recommended to select two power converters. In above diagram 1, the power supply of vehicle electronic equipment is 110VDC. MORNSUN 10W railway power converters URB1D05LMD-10WR3 offers 5VDC powering CPU and URB1D15LMD-10WR3 does 15VDC powering motor driver chip. Both actual output power are about 6-8W.
URB1DxxLMD-10WR3 series are designed with the European standard EN50155 and meet the special requirement for isolation. They come in enclosed metal package with excellent thermal performance and good radiation protection. The series offer 2250VDC isolation (reinforced insulation) and 40-160VDC ultra-wide input voltage, suitable for 72V/96V/110V system.

Application 2: Business-class Seat on High-speed Train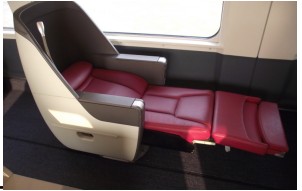 Business-class seat electric control system mainly
consist of switching button, position sensor, electronic
controller ECU and drive motor.The switching button and
position sensor includes the electric switch (base,
backrest, waist) and position sensor of them. And the
Drive motor is used to flexibly adjust various seat statues
(cradle seats, angled lie flat seats and fully flat seats)
and manually reset in case of power turns off.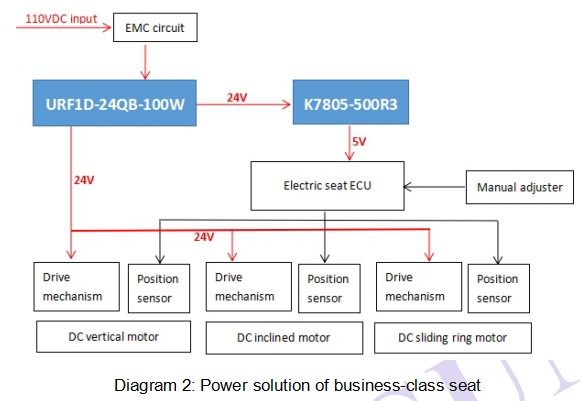 In above diagram 2, the power supply of railway vehicle electronic equipment is 110VDC, too. MORNSUN URF1D24QB-100W targeting railway offers 24VDC to power vertical motor, tilt motor and sliding motor on one hand. On the other hand, it connect with K7805-500R3 to convert voltage into 5VDC powering the electronic controller and position sensor.

IV. About MORNSUN Power Converter for Railway Application
a). DC/DC Converter URB1DxxLMD-10WR3
This series offer 10W output power, 40-160VDC ultra-wide input voltage, 2250VDC isolation (reinforced insulation), an operating temperature of -40℃ to +85℃ and multiple protections (input under-voltage and output short-circuit, over-current, over-voltage protections), suitable for 72V/96V/110V railway vehicle electronic equipment. Other applications are railway monitoring equipment, air conditioner controller and information displays applications, etc.
Features: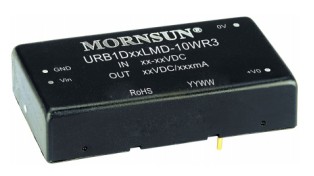 Ultra-wide input voltage (4:1): 40-160VDC

High efficiency up to 85%

Reinforced insulation

Isolation: 2250VDC

Operating temperature: -40℃ to +85℃

Low ripple & noise

Protections: RVP, SCP, OCP, OVP

Reverse voltage protection available with A2S (Chassis mounting) or A4S (DIN-Rail mounting)
b). DC/DC Converter URF1Dxx-100W

URF1Dxx-100W is a railway power converter with high performance, featuring 100W output power, no min. load requirement and wide input voltage of 66-160VDC, and allow the high base plate temperature (up to 100℃). They also provide protections of input under-voltage, output over-voltage, short-circuit and over-temperature protection and have functions of remote control and compensation, output voltage regulation. The series meet railway standard EN50155, suitable for railway system.

Features: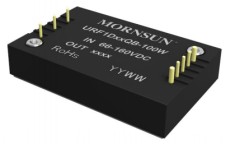 Wide input voltage: 66-160V

High efficiency up to 92%

Low no-load power consumption

Isolation: 3000VDC

Operating temperature: -40℃ to +100℃

International standard: 1/4 brick

EN50155 railway standard approval

Protections: RVP, OVP, OCP, SCP, OTP
c). Non-isolated DC/DC Converter K78(L)xx-500R3
K78xx-500R3 series including open frame cost-effective K78Lxx-500R3 are high efficiency switching regulators and compatible with LM78xx series three-terminal linear regulators. The series feature high efficiency, low standby power consumption and output short-circuit protection. They also have no requirement for heat-sink and support negative output, widely used in industrial control, instrumentation, and electric power applications.

Features: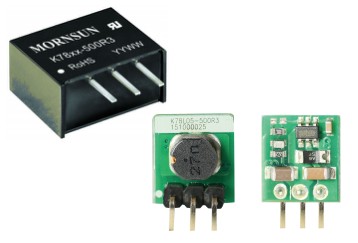 High efficiency up to 95%

No-load input current as low as 0.2mA

Operating temperature: -40℃ to +85℃

Negative output available

Pin-out compatible with LM78XX linear regulators

UL60950/EN60950 approval
With the rapid development of railway at home and aboard, the requirements for high reliability and EMC of power supplies gets higher and higher. MORNSUN railway power converters are ideal choices for you to simplify your design solution. For more details please visit www.mornsun-power.com.