Railway Applications & Selection Guide --- DC/DC Converter Used on Rolling Stock
Abstract: This paper introduces components of vehicle electronic equipment of rail transit and different requirements for them, and puts forward key points complying with EN50155-2007 standard for selecting DC/DC Converter used in vehicle electronic equipment, including isolation voltage, input voltage range, operating temperature range, EMC and so on. In this paper, certain MORNSUN DC/DC Converter are recommended for readers' reference.

Keywords: vehicle electronic equipment, isolation, DC/DC Converter
China which has the longest high-speed railway network in the world intends to build 30,000 km of train tracks by the end of 2020, extending the total length of its railways to 150,000 km, as part of the country's 13th Five-Year Plan (FYP) from 2016-2020. The total railway network is an increase of 29,000 km, of which some 11,000 km will be for high-speed railway network. A total of 800 billion RMB will be put into railway rolling stock, making the sum of railway construction investment 4 trillion RMB, it added.
Regarding international railway network, Chinese government proposes high-speed railway "going out" strategy to help overseas railway projects in Central and Western Asia, Southeast Asia, the Middle East and Europe, such as China-Indonesia Jakarta high-speed Railway Project, China-Laos Railway Project, China-Thailand Railway Project, Hungary-Serbia Railway Project and Moscow-Kazan High-Speed Railway Project. Railway construction has become a business card of "Made in China" and promotes "One Belt, One Road (B&R)", which pushes the former in turn. The railway construction has great potentials for growth in developing countries especially India.

I. Introduction of vehicle electronic equipment

With the continuous development of railway industry, a large number of electronic equipment are adopted in railway transportation system to improve the reliability of vehicle operation and the comfort of passengers. The vehicle electronic equipment is mainly powered by an auxiliary power supply system, which refers to all the load devices in addition to traction power network, including auxiliary power supply system and battery system.
Usually, these equipment take power from a low-voltage bus power supply. And battery system at normal operation powers Train Control and Management System (TCMS), lighting system, radio and other systems and plays as a role of energy buffering in the case of temporary failure of battery charger.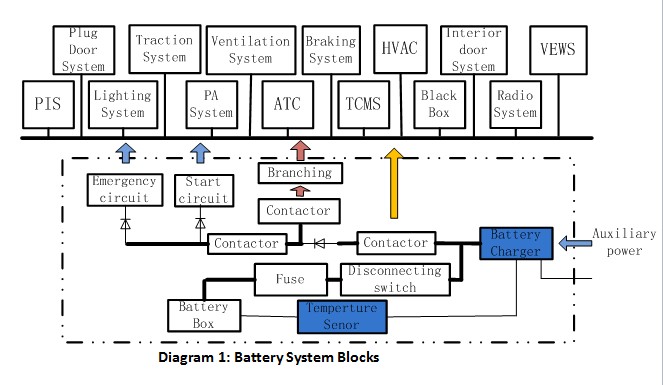 The vehicle electronics mainly consists of TCMS, PIS, PA system, ATC and so on. These systems are isolatedly powered by bus so as to ensure reliable operation of each subsystem, which helps isolate fault areas in case equipment failing.
In short, owing to automotive and intelligent technology, the equipment are interconnected through the train communication bus with Remote Control function so as to drivers could control every electronic system through the on-board controller. Therefore, it has a higher requirement for vehicle bus.

II. Requirements of vehicle electronic equipment
Vehicle electronic equipment are various and differ from each other. In order to ensure the equipment meet the special requirements for potential difference, electromagnetic compatibility (EMC), human safety and fault diffusion caused by failure of external control, all products must meet EN50155 standards.
Main requirements are the following ones:
a. Environmental: e.g. altitude, temperature, humidity, shock and vibration, IP rating;
b. Electrical: e.g. power supply, electrical isolation;
c. Surge and electrostatic discharge: surge test mainly tests over-voltage. The equipment must withstand 1.4 times of the nominal input voltage;
d. EMC: it includes requirement for CE, RE, CS, RS, Surge, EFT, ESD and so on. Different interfaces, different requirements, as shown in diagram 2.
e. Reliability, maintainability and estimated life-cycle: 1) Reliability verification: running distance (≥10W km) and running time (≥1 year); 2) Maintainability verification: indicator light, fault locating and easy maintenance;
f. Others: e.g. power interruption and power drop. Common power converter, especially low input voltage power converter is difficult to meet the requirement of 10mS power interruption and has to add a peripheral capacitor. Besides, anti-reverse diodes or mechanical design are usually used to avoid failure of battery.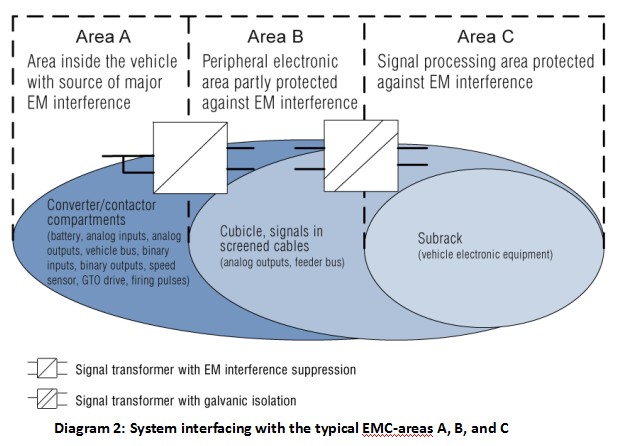 III. Selection guide for vehicle electronic equipment

Isolation is one of effective methods to prevent fault diffusion and plays an important role in vehicle electronic equipment. However, the equipment changes a lot during operation such as severe vibration and rapid ambient temperature change. It increases difficulties for common industrial-grade power supply to meet the requirements.
Then what are the requirements for vehicle power supply?
a. Shock and vibration:
Railway vehicles are subject to shock and vibration owing to the nature of railway operational environment. Therefore, random shock and vibration tests are required for the installation of electronic equipment. Using a glue to fix the components on the PCB is a popular approach for power supply, for example, to effectively enhance the ability of resist vibration and shock.
MORNSUN railway power converter R3 series fully meet the requirements of vibration 10-55Hz 10g 30Min along X Y Z.
b. Input voltage range:
24V, 48V, 72V, 96V and 110V are five rated vehicle battery voltages. The battery must withstand input voltage drops of 0.6(VN) for 100ms and over-voltage surges of 1.4(VN) for 1s that may occur during auxiliary equipment's start-up or inductive load switching. Power supply compatible with multiple vehicle battery voltages is an alternative choice for many manufacturers.
MORNSUN railway DC/DC Converter URB1D24YMD-6WR3 offers input voltage range of 40VDC-160VDC, compatible with vehicle battery of 72VDC, 96VDC, 110VDC.
c. Isolation:
Equipment's dielectric test is closely relate to vehicle battery voltage. Relevant requirements are as follows:


Given that vehicle battery is uncertain, it may cause float charge. 110V battery float to 125V or low-voltage transformer over 125V. In this situation, 1500VAC isolation is recommended to meet transient over-voltage. MORNSUN 6WR3 railway power converter offering 1500VAC/2250VDC isolation is a good choice.
d. Temperature and humidity:
To adapt to temperature range and humidity range of railway locomotives for long-distance routes, the vehicle battery should normally operate at ambient temperature range of -40℃ to 85℃, which needs to be verified by reliability tests of High-Low Temperature Test and Damp-Heat Test.
MORNSUN railway power converter is monitored with high quality from design and manufacture with a strict quality control system and passes the railway reliability tests.
e. Surge:
Different countries have different standards for surge. For example, according to European RIA 12 standard GENERAL SPECIFICATION FOR PROTECTION OF TRACTION & ROLLING STOCK ELECTRONIC EQUIPMENT FROM TRANSIENTS & SURGES IN DC CONTROL SYSTEMS, electrical equipment connecting vehicle battery must withstand a 1s over-voltage surge 1.5 times greater than the nominal input voltage and a 20ms over-voltage surge 3.5 times greater than the nominal input voltage. The latter one is with source impedance of 0.2Ω. Assuming that the rated battery voltage is 110VDC, a single clamp components (clamp voltage: 160VDC) for protection is difficult to absorb about a maximum of 2475J energy (=2475J). Specialized circuits or power supply are recommended. MORNSUN auxiliary filters adopt conduction power device to form an active clamp circuit helping the transient surge voltage clamp to the withstanding range of railway power converter. Take an example, EMC filter FC-CX3D offers input voltage range of 66VDC-160VDC, maximum 100W output power and maximum 165VDC clamping voltage, and provides high efficiency up to 98% with active clamp circuit, patent protection.
f. Others:
Common power converter is difficult to meet the requirement of 10mS power interruption and has to add a peripheral capacitor to meet user's demand.

In summary, more attention should be paid to input voltage range, EMC, vibration, isolation and reliability tests when selecting DC/DC Converter used on rolling stock.
For more details please visit www.mornsun-power.com.