MORNSUN K78 series are non-isolated, highly efficient switching regulators. Compared to a regular linear regulator, the K78 series offer a wide input voltage range, smaller size, high efficiency, no heat sink, and better price. In addition, compared to discrete ic solutions, the K78 series are comparable in price, more versatile, and has a better performance and reliability. Through continuous technological innovation, MORNSUN K78 series are available in a variety of options, the conventional 0.5A-2A pin-compatible SIP package (Compatible with LM78 linear regulator pin), and 0.5-1A SMD package. Moreover, the latest generation ultra-compact R4 products in the DFN package are products with small size, low cost, and high performance. As a universal voltage conversion product, the K78 series are widely used in IoT, automotive electronics, medical, robot, communications, photovoltaic, and other industries.
Comparison between Switching regulator and Linear regulator
Engineers sometimes consider using Linear regulator(LM7805 or LDO) with simple peripheral circuit and system cost pressure factors. In fact, its efficiency is very low, taking 24V or higher input and 5V output as an example, the efficiency is less than 20% and the heat is serious which stores up risks to system reliability. Additionally, the temperature problem can be improved by adding a heat sink, but two new problems will arise, one is the large dimension of the heat sink, the other is that the price of a heat sink is not cheap. By contrast, taking Mornsun new switching regulators K78-R4 as an example, the efficiency can be up to 83% at 24V or higher input and 5V output, and as high as 95% efficiency at 7V input, whilst Mornsun K78-R4 products has a micro-size without peripheral circuit needs and no heat problems.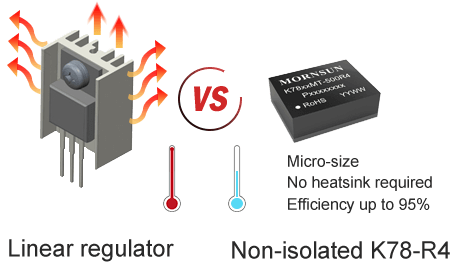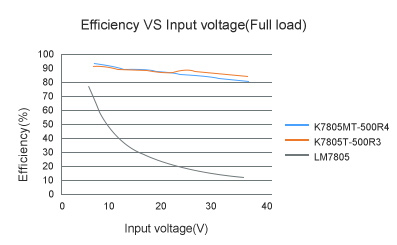 Feature
Ultra-wide Input: 4.5-36VDC/9-90VDC
High efficiency up to 95%(No heat sink)
Operating temperature range: -40℃ to +85℃/105℃
No-load input current as low as 2mA
Output short-circuit protection
EN62368 approval
Applications
Communications
Industrial control
Instrumentation
Medical
Electric power
Photovoltaic
Power solution for
BMS: battery management system
Learn More >>
Logistics robot
Learn More >>
DC charging pile solution
Learn More >>
* The characteristics of each product may be different
please refer to the datasheet for details or contact us fae807@mornsun.cn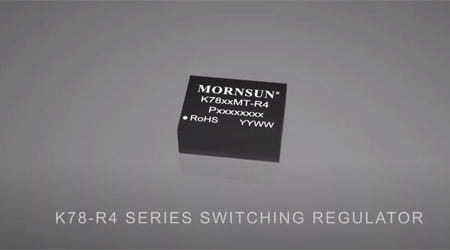 MORNSUN DC-DC K78 Series
Swithcing Regulator