120-350W Compact Open-frame ACDC Converter Meeting Medical Standard——LOF Series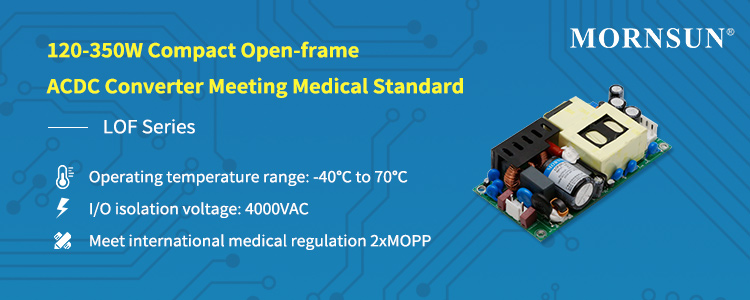 Introduction of AC-DC Converter LOF series
MORNSUN latest open-frame AC-DC Converter LOF series can meet the standard of the medical industry and comes with the power of 120/225/350W. The power density of LOF products is upgraded, and the dimensions are reduced by 59% ((LOF120: 3"×2"×1.2" (1W/cm3), LOF225: 4"×2"×1" (1.7W/cm3), LOF350: 5 "×3"×1" (1.4W/cm3)) compared with conventional products. It will provide more layout space for customers.
The safety regulation of LOF series input-output meets international medical regulations 2xMOPP, and the LOF series with active PFC function will be safer and more reliable in practical application. It meets medical electrical equipment standards (IEC/EN/ES60601-1), industrial standards (IEC/EN/UL62368, IEC/EN61558), and home appliance standards (IEC/EN60335).
Application of AC-DC Converter LOF series
Low leakage current (<0.1mA) is suitable for BF medical equipment and non-patient contacting devices, and it also meets industrial application standards.
Typical application: Hemodialysis

Features of AC-DC Converter LOF series
● Input voltage range: 85-264VAC 100-373VDC(LOF120/225), 90-264VAC 127-373VDC(LOF350)
● Operating temperature range: -40℃ to 70℃
● Compact size: LOF120:3"×2"×1.2"(1W/cm3), LOF225:4"×2"×1"(1.7W/cm3), LOF350:5"×3"×1"(1.4W/cm3)
● I/O isolation voltage: 4000VAC
● Active PFC(PF value: 0.95/230VAC)

● Input-output: 2×MOPP
● No-load power consumption<0.3W
● Output short circuit, over-current, over-voltage, over-temperature protection
● Available in system of Safety Class I/II

● Efficiency up to 95%
● Operating altitude up to 5000m
● EMI meets CISPR32/EN55032 CLASS B

● Meet medical electrical equipment standards (IEC/EN/ES60601-1), industrial standards (IEC/EN/UL62368, IEC/EN61558) and home appliance standards (IEC/EN60335), (EN60335/61558/62368, UL62368 pending)
● With conformal coating
● With Fan(LOF225/350)