New DC/DC converter R3 Series in High Power Density
MORNSUN 6-30W wide voltage R3 DC/DC Converters are designed with low no-load power consumption, high light-load efficiency, and large load capacity in addition to performance advantages such as high efficiency and low ripple noise. With increasing demands for board space in various applications, MORNSUN improved the power density of products packaged in DIP24, 1*1, and 2*1.
1)
10W R3
DC/DC Converters in DIP24 package include
URA_ZP-10WR3
,
URB_ZP-10WR3
,
VRA_ZP-10WR3
and
VRB_ZP-10WR3
.
2) 15W R3 DC/DC Converters in 1*1 packages include URB_YMD-15WR3, VRB_YMD-15WR3 and URA_YMD-15WR3, and 20W in 1*1 packages include URB_YMD-20WR3, VRB_YMD-20WR3 and URA_YMD-20WR3.
3)40W R3 DC/DC Converters in 2*1 packages are VRB_LD-40WHR3 with heat sink.
These 10W / 15W / 20W products offer 2:1 input voltage (9-18V, 18-36V, 36-75V) or 4:1 input voltage (9-36V, 18-75V) with optional single and dual outputs. Efficiency is high up to 91%, and protections include input under-voltage, output-short-circuit, over-current, over-voltage and others. Besides, the 40W VRB_LD-40WHR3 series adopt one-piece heat-sink shell and offer stand-by power consumption as low as 0.14W.
The new high-performance low-cost R3 DC/DC converters significantly improve performance and increase reliability. Request free samples at http://www.mornsun-power.com/html/support/SampleRequest.html.
Features:
a) Ultra-wide input voltage range: 4:1 (9-36VDC, 18-75VDC), 2:1 (9-18VDC, 18-36VDC, 36-75VDC)
b) Efficiency high up to 91%
c) Stand-by power consumption as low as 0.11W
d) Isolation voltage: 1500VDC
e) Operating temperature range: -40℃ to +105℃ (YMD-15/20WR3: -40to+105℃, ZP-10WR3/40WHR3: -40to+85℃)
f) Meet CISPR32/EN55032 CLASS A without external components
g) International standard pin-out, 1x1 inch, 2x1 inch and DIP 24 packages
h) Meet EN62368, UL62368 and IEC62368 standards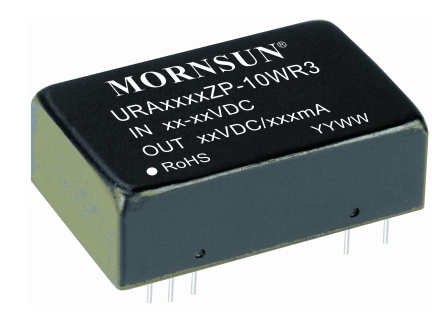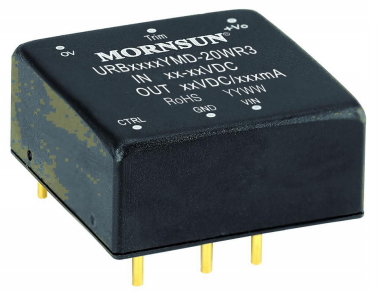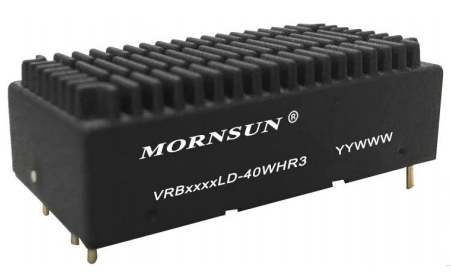 Model Number

Power
(W)


Input Voltage
(VDC)


Output Voltage
(VDC)


No. of outputs




Isolation
(VDC)


Package

Dimension
(mm)


Certification




申请

样品

10

24(9-36)
48(18-75)


±5,±12,±15

2




1500

DIP

32*20*10.8




10

24(9-36)
48(18-75)


3.3, 5,12, 15, 24

1

1500

DIP

32*20*10.8




VRA_ZP-10WR3




10

±5,±12,±15




2




1500




DIP




32*20*10.8




EN62368




(pending)





VRB_ZP-10WR3


10

3.3, 5,12, 15, 24




1

1500

DIP




32*20*10.8




EN62368




(pending)





URB_YMD-15WR3


15

3.3, 5,12, 15, 24




1

1500

DIP




25.4*25.4*11.7




EN62368




(pending)





VRB_YMD-15WR3


15

3.3, 5,12, 15, 24




1

1500

DIP




25.4*25.4*11.7




EN62368




(pending)





URB_YMD-20WR3


20

3.3, 5,12, 15, 24




1

1500

DIP




25.4*25.4*11.7




EN62368




(pending)



VRB_YMD-20WR3


20

3.3, 5,12, 15, 24




1

1500

DIP




25.4*25.4*11.7




EN62368




(pending)



URA_YMD-20WR3


20

±5,±12,±15,±24




2

1500

DIP




25.4*25.4*11.7




EN62368




(pending)



URA_YMD-15WR3


15

±5,±12,±15,±24




2

1500

DIP




25.4*25.4*11.7




EN62368




(pending)



VRB_LD-40WHR3


40

12, 15, 24




1

1500

DIP




50.8*25.4*16.3




EN62368




(pending)



Please refer to the technical manual for specific product parameters:www.mornsun.cn