New SMD Open Frame CAN/485 Transceivers TDx21SCAN(H) & TDx21S485x Series
MORNSUN recently introduced the new cost-effective transceivers in SMD package, TDx21SCAN(H) (SMD 8) and TDx21S485x series (SMD 10), to assist fast signal response in industries of power grid, industrial control, transportation (rail, automotive) and instrumentation, etc.,

6 months after the launch of Open Frame CAN Transceivers TDx21DCANx Series in DIP package.
The series are designed with a more compact size and automation manufacturing process ensuring
products' consistency and reliability.

Secondly, they use pin terminals to match corresponding female header, which enables customers to easily achieve automated processing, and greatly reduce costs.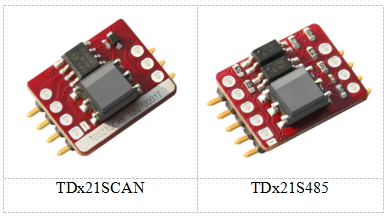 Features:
▶ Compact size, SMD package
▶ Integrated power supply, bus isolation and ESD protection in one module
▶ Isolation: Two- port isolation 3000 VDC (input and output are mutually isolated)
▶ Baud rate up to 1Mbps (CAN) / 500kbps (RS485)
▶ Connect up to 110 (CAN) / 256 (RS485) nodes on one bus
▶ Operating temperature range: -40℃ to +105℃(CAN)/-40℃ to +85℃(RS485)
▶ Meet EN60950 standards
Applications: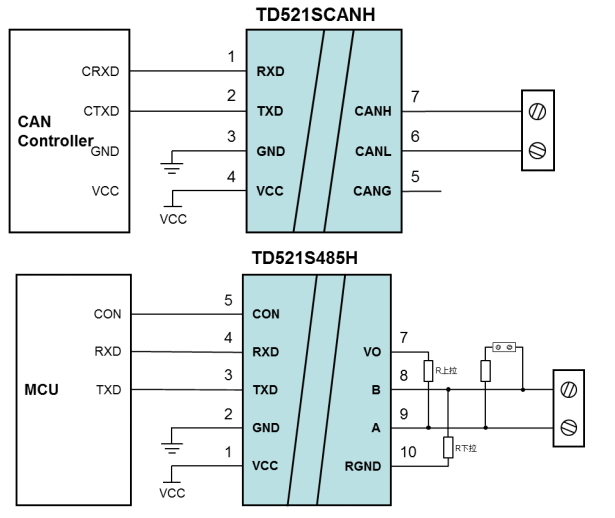 Series

Characteristics

Power Input (VDC)

Baud Rate

(bps)


Maximum Operating Current (mA)

Bus Maximum
Voltage (VDC)


Nodes

Certification




Sample

Low-speed

3.3

5k-1M

100

±36V

110

EN60950




Low-speed

5


5k-1M

80

±36V




110

EN60950




TD321SCANH




High-speed




3.3

40k-1M




60

±58V




110

EN60950






TD521SCANH




High-speed




5

40k-1M




68

±58V




110

EN60950






Series




Characteristics




Power Input

(VDC)

Baud Rate

(bps)

Maximum Operating
Current (mA)


Distribution Voltage
(VDC)

Nodes




Certification




Sample

TD321S485




Low-speed (economical)

3.3

19.2K




130

5

64

EN60950






TD521S485




Low-speed (economical)

5

19.2K




130

5

64

EN60950






TD321S485H




High-speed




3.3

200K




130

5

64

EN60950






TD521S485H




High-speed




5

200K




130

5

64

EN60950






TD321S485H-E




High-speed (enhanced)




3.3

500K




130

5

256

EN60950






TD521S485H-E




High-speed (enhanced)




5

500K




130

5

256




EN60950






TD321S485H-A




Auto-switch




3.3

500K




90

5

128

EN60950






TD521S485H-A




Auto-switch




5

500K




90

5

128

EN60950





Please refer to the technical manual for specific product parameters:www.mornsun.cn