Transceiver Module - Simplify Your Design
Traditional Design:

Transceiver+isolation chip/optocoupler+isolated power.

Mornsun Solution:

Mornsun CAN/RS485/RS232 transceiver modules integrate transceiver, isolation chip and high efficient DC/DC isolated power in one module.

The modules can be used for inter-communications between devices on the industrial bus, achieving the signal transceiving and power isolation.
CAN/RS485/RS232 Features

- 32~110 nodes availiable (CAN/RS485)

- Signal & dual output availiable

- Rate: 9.6Kpbs~1Mpbs availiable

- Integrated DC/DC converter

- Reliable EMC circuit recommended

- Compact size: 20*17*7mm (L*W*H)

- Static current down to 35mA

- ESD: IEC/EN61000-4-2 Contact ±4KV perf. Criteria B

- CE/UL approval
RS485 Application in Photovoltaic Industry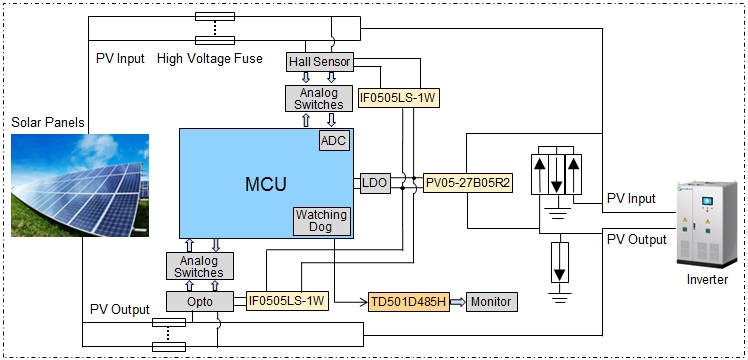 PV combiner box system combines solar energy which plays an important role.
TD501D485H is used to communicate between the systems and monitor so that the engineer can monitor the current and voltage in real-time.
CAN/RS485 Application in Rail Transit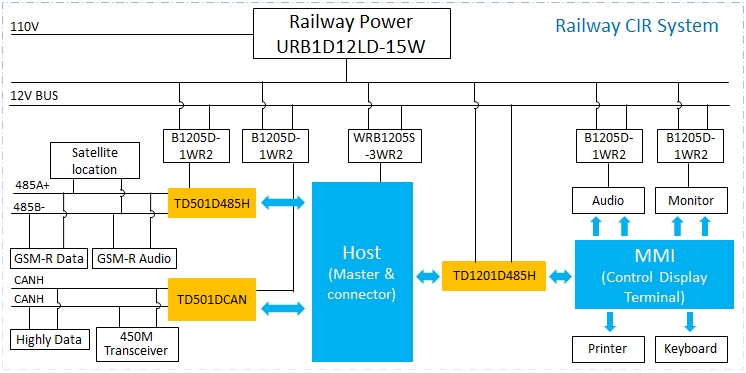 CIR (Locomotive integrated wireless communications devices) communicate between the locomotive and other locomotives, as well as the station, records voice communication date.
Mornsun CAN/RS485 communication&isolation solutions help to simplify your design and achieve a more efficient application.
---
Mornsun Guangzhou Science & Technology Co. Ltd.
No.5, Kehui Development Center, Science Ave., Guangzhou Science City, Luogang District, Guangzhou
Tel: +86(20)38601850 Fax: +86(20)38601272
Email: info@mornsun.cn Website: http://www.mornsun-power.com/